Strategic Fellowships Not Socials
Kris Swiatocho, The Singles Network Ministries
Tuesday, December 27, 2011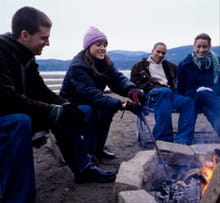 EDITOR'S NOTE: The following article is part of the Jesus . . . Single Like Me series.
Jesus lived his life as a single adult till his death. Because he lived his life as a single adult, he understands every aspect of what you and I are experiencing today. This series examines the "singleness" of Christ in relation to our singleness with the hope you will be encouraged to walk this journey you have been given—a journey that not only leads to the cross for our salvation but to his resurrection for our future.
There I am again, sitting in the church parking lot, all alone. It's Saturday morning, a time I am usually still in my bed, under the covers with my squishy soft pillows getting a few more winks. A day I know I should be cleaning something. A day to catch up on laundry, buy groceries and call my mom. But no, I am at the church waiting on the drove of singles to join me to go hiking. It's now 9:15 a.m. and no one has showed up. Hmmm, where could they be? OK, I will wait a bit longer, I mean, maybe they got stuck in the two others cars on the highway this morning. 9:30, 9:45, 10:00 a.m. and still no one. OK, I guess no one is coming. What is wrong Lord? I plan these great events and either only a few show up or none. What am I doing wrong?

It was 1995, and I had started attending a new church in Raleigh, NC. Besides singing in the choir and greeting, I had been given the role as the singles leader. What in the world was my church thinking? Sure, I had a ton of experience serving on a team at other churches. But to run one all alone? I mean, were they sure? Could I do this? Well, not really. I still needed a lot of training, encouragement and help. But where was I to get the help and what would I need to do in the meantime?

Well, this particular morning was one of many times where I would plan an event and no one would show up. I mean, I was fun, outgoing and energetic. I would create the cutest flyers and post them everywhere. I would even get the opportunity to get up in front of church to let folks know what we were doing. But still despite all this, folks wouldn't always show up. So I started to pray and God revealed something huge to me:
Never plan anything I wouldn't want to do alone, because sometimes I would be alone.
Every event or social I plan should be a strategic fellowship which would eliminate #1 if done right.
They devoted themselves to the apostles' teaching and to fellowship, to the breaking of bread and to prayer. Everyone was filled with awe at the many wonders and signs performed by the apostles. All the believers were together and had everything in common. They sold property and possessions to give to anyone who had need. Every day they continued to meet together in the temple courts. They broke bread in their homes and ate together with glad and sincere hearts, praising God and enjoying the favor of all the people. And the Lord added to their number daily those who were being saved (Acts 2:42-47).

Jesus, single like me, gives us the example of how all things need to be strategic. Our goal with all things needs to be focused on reaching people for Christ, growing the saved and equipping the leaders. So how was I not doing this?

1. I thought all singles' ministries needed to have tons of socials.

I mean, that is what we are there for right? To meet others, connect, make friends and possibly find a mate. What better place to do this than a social! Well, to be honest, a singles ministry never has to plan a social for singles to connect. It's amazing how when you plan a Bible study, a missions event, Sunday school, etc., singles find each other and go do things. The church's role is not to plan our social calendar. When you plan so many socials (without anything being strategic about it), you can quickly not only wear yourself out but also your leadership team.

2. I didn't collectively pray.

I had broken one of the golden rules of life: collective leadership prayer. Sure, I was praying, even crying out to God, but I do not remember meeting with my leadership team to pray about what we were doing much less having them lead the various events. Praying together on a regular basis not only brings your team together but it also puts you on the same page. You will know what to do and not do. So when folks say, "Why are we doing this or that?" you can simply say the truth. God is not leading us there.

They devoted themselves to the apostles' teaching and to fellowship, to the breaking of bread and to prayer (Acts 2:42).

3. I planned events that I wanted to do and not do.

I simply hate putt-putting and hiking but love going to the movies and fishing. OK, well, most singles love to go putt-putting and hiking (well the healthy ones anyway) as well as the movies, but fishing? I can tell you as of today there isn't much I have not done with singles. Bottom line, singles want an environment to talk, to connect and be encouraged. Some are there to meet a possible mate (which to me is a good thing considering they are at a church event), some are there to make friends and some need support and prayer. I have found that younger singles love doing missions projects that lead to eating at Taco Bell (99¢ menu), while older singles just want to eat out. As I have gotten to know my singles, who they are and what they want, I have been able to be more strategic in planning events that not only did the obvious (make friends, etc.) but reach people for Christ. Events that also help grow my leadership team while training others. So sometimes this means doing fewer socials (strategic fellowships) with the focus being more on Bible studies and missions projects. Remember, people are not drawn to the church because of your socials, great preaching any/or music, but what the power of the Holy Spirit is doing through your people/ministry.

Everyone was filled with awe at the many wonders and signs performed by the apostles (Acts 2:43).

4. My socials were socials, not strategic fellowships.
Have something to say about this article? Leave your comment via Facebook below!
advertise with us
Example: "Gen 1:1" "John 3" "Moses" "trust"
Advanced Search
Listen to Your Favorite Pastors