In The Studio With Thousand Foot Krutch
Lindsay Williams

2009

31 Aug

COMMENTS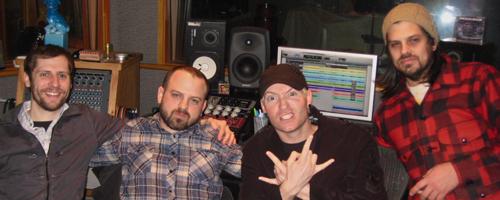 In The Studio with Thousand Foot Krutch
Going behind the scenes to get you ahead of the curve…
ALBUM TITLE: Welcome To The Masquerade
LABEL: Tooth & Nail
RELEASE DATE: September 8, 2009
RECORDING STUDIOS: Compound Studios in Seattle, Wash.; drums recorded at Stringnoize Studios in Hamilton; one song tracked at Darkhorse in Franklin, Tenn; home studios
PRODUCERS: Aaron Sprinkle, Trevor McNevan

NUMBER OF SONGS: 14
A SPRINKLE OF FUN: Aaron Sprinkle and I produced [Welcome To The Masquerade with] additional production by TFK. We did the latest FM Static record together and had a blast, so we said, "Let's do it again!" -Trevor McNevan (vocalist/songwriter, TFK)
MASQUERADE THEME: The masquerade theme is referring to the masks that we all wear at certain places or times in our lives, and each song speaks to one of those things. -T.M.
THE MUSIC: Big, crunchy ADRENALINE rock! -T.M.
FOR LONGTIME FANS: I think this is the best record we've made; it's heavier. There are traces of our earlier material throughout this one. You'll hear it in things like more percussive vocals. We worked with Chris Carmichael on the strings for the first time; he was phenomenal. -T.M.
GUEST APPEARANCES: I had been chatting with Lacey [Mosley] from Flyleaf about a duet, but our record schedules got in the way. Pete Stewart from Grammatrain does a solo at the end of "Fire It Up." -T.M.
For more information on Thousand Foot Krutch and the band's new project, Welcome To The Masquerade (Tooth & Nail), visit thousandfootkrutch.com.
Photo Caption (left to right): Jeff Carver (Tooth & Nail), Aaron Sprinkle (producer), Trevor McNevan (TFK), Randy Torres (Tooth & Nail)