But you, O Lord, are a shield about me, my glory, and the lifter of my head. I cried aloud to the Lord, and he answered me from his holy hill. I lay down and slept; I woke again, for the Lord sustained me. (Ps. 3:3–5)
Loss of sleep is a common result of anxiety. We toss and turn, upset by what happened today and worried about what tomorrow might bring. Overdue bills. Relational conflict. Results of a family member's CT scan. Whatever the cause of our upset, anxiety is a thief. But there's a way to arrest what robs you of a good night's rest.
King David penned today's psalm when his son Absalom was leading a coup to seize David's throne (see 2 Sam. 15). In the grip of fear, after having fled Jerusalem, somehow the man after God's own heart "lay down and slept." How is that possible? His prayer in this psalm answers that question. It reveals three unchangeable truths that can act as spiritual sleep aids when you, in confident faith, entrust yourself to the Lord's safekeeping.
God surrounds you like a shield. Absalom's cunning deception and smooth speech turned David's peaceful reign into wartime terror. Dissenters mocked him and God's so-called protection of him. But he prayed, "You, O Lord, are a shield about me" (v. 3). When your circumstances become fertile ground for fear to flour­ish, you need to follow David's example. Make a decisive shift in your focus from the attacks and accusations of the wicked to rock-solid truths about God. Fight fear with a greater fear—the fear of God. He is the invisible shield surrounding you.
God sustains you by your sleep. David's childlike trust in God as his protector led him to earnest prayer: "I cried aloud to the Lord" (v. 4). And God answered. He provided sleep for the rehabilitation of David's weary mind and body. God will do this for you, too. If you follow David's example of earnestness in prayer, his testi­mony can become yours: "I lay down and slept; I woke up, for it is Yahweh who keeps supporting me" (v. 5). In a footnote to verse 5, Motyer provides an alternate translation of that last phrase as "the Lord my pillow!" David rested in God and rested on God. This sustained rest then led him to greater confidence: "I will not be afraid of many thousands of people who have set themselves against me all around" (v. 6).
God secures you with his salvation. David knew that no mat­ter what his enemies might do to him, God would always get the final word. Ultimately it was the Lord who would "strike" down his enemies and "break the teeth of the wicked" (v. 7). Striking the cheek signifies rebuke, and breaking their teeth signifies God's rendering his enemies harmless in the end. In God's hands, ene­mies of his children are toothless tigers who may cause a lot of pain and trouble but ultimately cannot harm the ones whom God protects. All this leads to David's triumphant conclusion in the last verse: "To Yahweh belongs salvation!" and "Upon your people your blessing!" (v. 8).5
Remember: God watches over those who belong to him. Though he may lead you through dark valleys and deep waters, the Lord is always with you. Do not be afraid. Look to him. Say to yourself, "Go back to bed, my soul. Lie down and sleep. For the Lord is on my side."
[Excerpted from ANXIETY: Knowing God's Peace – a 31-Day Devotional]
Most people don't read about suicide until they have to. Why would they? Yet you are reading this. It's safe to assume, therefore, that you have been personally affected by the self-inflicted death of someone you love. For that, I am deeply sorry. Losing someone through suicide is so painful that you may not want to talk about it. You may even find yourself changing the subject whenever it arises. Suicide sparks questions, doubts, and confusion.
After her mother took her own life, one grieving daughter observed, "Suicide doesn't end pain. It only lays it on the broken shoulders of the survivors."
Often we don't want to acknowledge the reality of suicide. We'd rather look the other way, since most people "don't know the signs of suicide, don't know what causes suicide, and don't see any real reason to learn."
We know suicide happens, but it happens to other people. We never expect otherwise competent people to look for an exit from life's troubles through the door of suicide.
We want to put our fingers in our ears, or cover our eyes, and hope that it will all just go away. But it won't. As one Texas police chaplain wrote, "as long as we, as a society, keep hiding the ugly, terrible truth, people will keep on killing themselves. It's happening now in greater numbers than ever, in ways that are horrific to behold, and for rationales that almost never stand up to the light of reason."
As a police and fire chaplain, I've walked through suicide aftershock with many grieving people. In another mini-book in this series, Help! My Friend Is Suicidal, I addressed suicide prevention and offered counsel on how to intervene. But what happens after suicide has become a reality? The focus must now turn to how to help family and friends who remain behind. Clearly, those who die by their own hand are not the only victims. Like ripples in a pond after a rock has been thrown in, the startling news of a suicide spreads. It swamps the boats of those who are closest, and even rocks the boats of those who are far removed. All of these people are often known as suicide survivors. But this term can be misleading. Suicide survivors are not people who have survived unsuccessful suicide attempts; they are the family members and close friends of someone who decided to end his or her own life. Consequently, in this mini-book I have chosen to use the term survivors of suicide loss.
Perhaps you find even this term difficult to accept. You may really wonder if you will survive the pain and loss. This doubt is described by Albert Hsu:
Because death has struck so close to home, life itself seems uncertain. We don't know if we can go on from day to day. We wonder if we will be consumed by the same despair that claimed our loved one. At the very least, we know that our life will never be the same. If we go on living, we will do so as people who see the world very differently.
Life has changed. You have changed. You can never go back. You'll never be the same. But you have choices about where to go from here. That's where I want to help. I want to walk alongside you on this difficult journey by showing you how healing is possible.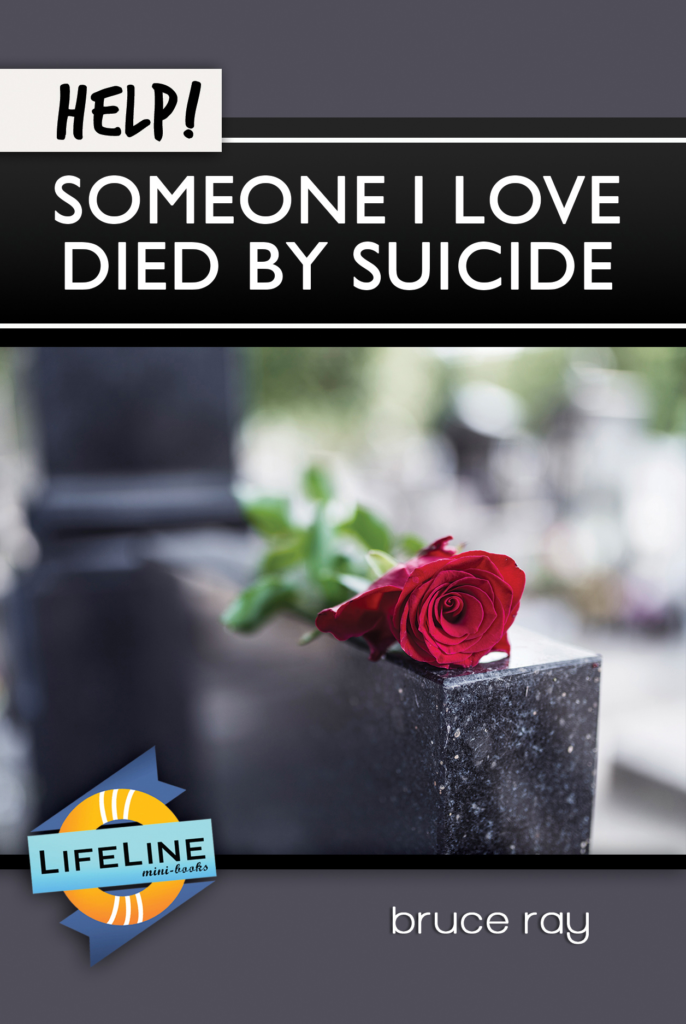 You are not alone. Along the way you'll meet some fellow travelers who, like you, are learning to proceed at their own pace. Most importantly, I want you to know that God is always there to help you and bring healing through his Word.
I will lift up my eyes to the mountains; from where shall my help come?
My help comes from the Lord, who made heaven and earth. (Psalm 121:1–2)
This is my comfort in my affliction, that Your word has revived me [or "preserved me alive"]. (Psalm 119:50)
Though I am writing directly to the one who is grieving, it's possible that you have not experienced this kind of loss yourself but are wanting to learn how to help a grieving friend. This mini-book is for you, too.
[This guest post is written by Bruce Ray, who has been a pastor for 50 years and has also served as a Police, Fire & EMS chaplain for 30 years. He is a frequent speaker on crisis and trauma. Bruce is a graduate of Los Angeles Baptist College (now The Master's University), the Reformed Episcopal Seminary, and Police & Fire Chaplains Training Academy. He is the author of HELP! Someone I Love Died by Suicide.]
My panic attacks started with a job promotion. When I became the new managing editor of a health and food magazine, Suzy, whom I replaced, advanced to the role of executive editor. This was a happy day for both of us, right? Wrong! On promotion day, Suzy gave me unsettling, steely stares all day.
Did I do something wrong? Why is she acting so weird? Does she hate me? Will I lose my dream job already?
Confused, hurt, and fearing Suzy's disapproval, I practically sprinted from the office at 5 p.m. Once behind the wheel of my blue hatchback, I cranked up the tunes and zoomed toward the six-lane freeway that would take me to my "safe place": a cozy Cape Cod house that I shared with my husband, Steve, and our fluffy feline. Like Dorothy in The Wizard of Oz, I repeated, "There's no place like home. There's no place like home."
As I drove, I tried to forget Suzy's disapproving stares, but they stuck in my head like superglue. Then, suddenly, seemingly out of nowhere, my heart beat triple-time. Sweat beaded on my forehead. I swallowed a lump in my throat. My knees became wobbly, like Jell-O. A horrific sense of impending doom settled on me. Then my mind went wacko as I came to a tight curve: Drive into the ditch, Lucy. Drive into the ditch. Drive into the ditch. In panicky desperation, I spoke back to the crazy thoughts filling my mind: What's wrong with me? Dear God, am I suicidal? Stay on the highway, Lucy. Just stay on the highway. Your exit is a mile ahead. You can make it. You can make it. What's wrong with me? God, help me!
Panic attacks are terrifying. But you already know this, since you picked up this mini-book. If you don't experience them yourself, you're surely aware of how they affect someone you know. As I share my story and the extreme fear experiences of a few others, I want to help you understand three truths that have helped me. First, you are not the only one who struggles with panic attacks.
No temptation has overtaken you that is not common to man. (1 Corinthians 10:13)
This Bible verse teaches that we all struggle, including those of us who are "fearful"—that is, who have a propensity for anxiety. The intensity and frequency of our fears may differ, but everyone at some point has freaked out.
Second, panic attacks often proceed from faulty thinking. But by God's grace you can change fearful thinking patterns into God-transformed, faithful thinking. This will require a willingness to trust and obey God, as well as perseverance. Your faulty thinking didn't develop overnight, so it most likely won't go away overnight. Mine didn't.
Third, God promises to help you overcome the fear that precipitates your panic attacks, assuming they don't have an organic, physical cause (more on this later). When you learn to realign your thoughts with God's thoughts, your panic attacks can become a thing of the past. This is hopeful, isn't it?
God can also use your panic attacks for good. Like me, you might begin encouraging others who have panic attacks by listening to them and by sharing your story. This verse in 2 Corinthians is dear to my heart because it gives meaning to my struggle, and I hope it will help you too:
Blessed be the God and Father of our Lord Jesus Christ, the Father of mercies and God of all comfort, who comforts us in all our affliction, so that we may be able to comfort those who are in any affliction, with the comfort with which we ourselves are comforted by God. (2 Corinthians 1:3–4)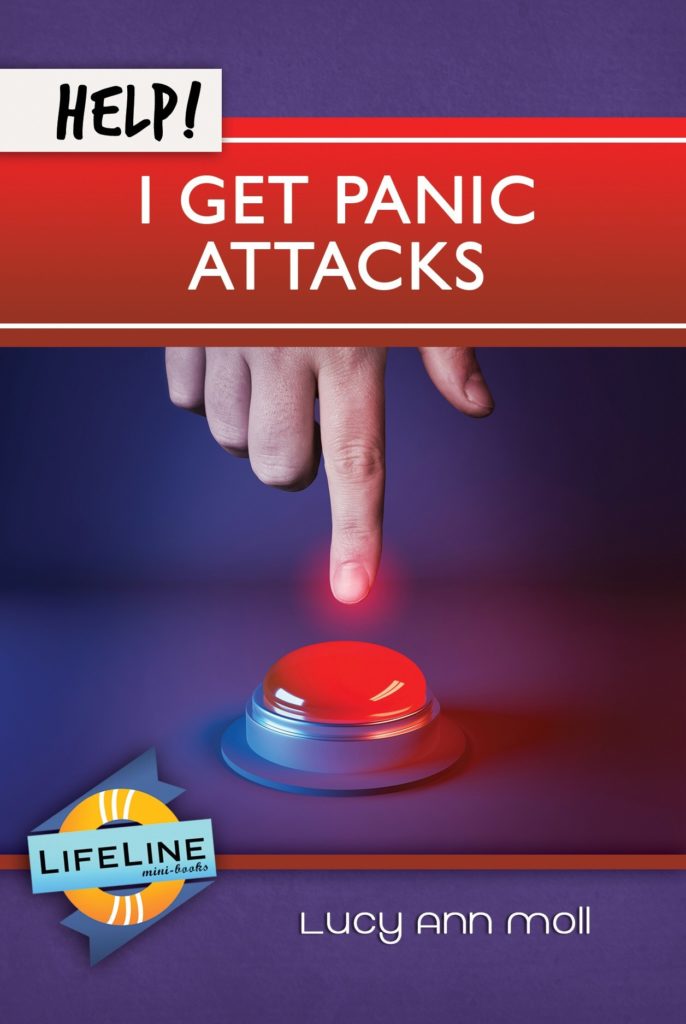 Perhaps this is difficult for you to believe, but God knows your fears and is able to deliver you from all of them. As you read this mini-book, you will learn practical ways to turn fear into faith. Will it be easy? No. It will require diligent effort. Will it be worth it? Yes. Your fears are one means God can use to help you learn to trust him and depend on him. Addressed biblically, they can become a doorway to experiencing the peace of God which comes through the Prince of Peace who conquers fear.
When my anxious thoughts multiply within me, Your consolations delight my soul. (Psalm 94:19, NASB)
[Today's post is written by Lucy Ann Moll, author of HELP! I Get Panic Attacks. If you struggle with experiencing extreme anxiety, you will be helped by this little book. And if you are involved in one-another discipleship/counseling ministry, you probably want to order the discounted 5-pack.]