In Review: Mark Harris' The Line Between the Two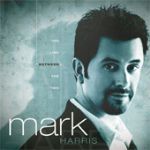 CD: The Line Between the Two
Artist: Mark Harris
Label: INO
Quote: "About five years ago, I actually thought, 'Gee it would be nice to do a solo project, but I dismissed the idea because in 4Him, we're always touring, But over time, God has been teaching me to define what is important in my life. The window of time to do things in life is so brief. You look at a tombstone and there are dates but the line between the two is the life lived. And that's really the story. The story isn't the beginning and end of your life but the story is what you did on that line, living in that line. I want to make my time count…. This was an opportunity, not to walk away from 4Him, but to do something new and fresh."—Mark Harris
FYI: Mark Harris has written or co-written more that 20 #1 radio hits while with 4HIM, a vocal group that continues to tour and impact audiences nationwide.
The Bottom Line: Personal and transparent for a songwriter like Harris and yet highly enjoyable and inspiring for listeners, The Line Between the Two is an album that will remind you to make the most of every day, to live a meaningful life by focusing on what matters in God's eyes. Several songs here are highly singable and worship worthy, but the album as a whole is great for everyday listening… in the car, at home, in the office.
Featuring: 10 songs, including "For the First Time," "Carry the Light," "Hello to Goodbye," "Ordinary Life," "Find Myself in You," and "Speak to Me," among others.
—Chris Davidson
Watch the latest Mark Harris music videos at Godtube.com today!