The Passion of the Christ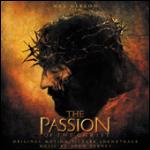 On February 25th, 2004, thousands of people across the United States—Christians and non-Christians alike—will witness one of the most powerful, biblically accurate movies of our time. From Oscar-winning actor/director Mel Gibson, "The Passion of the Christ" dramatically and graphically captures the last twelve hours of Christ's life on Earth based on the combined Gospels of Matthew, Mark, Luke, and John.
Many who've already seen the film say it's the closest we'll ever get to first-century Judea and to the reality of Christ's crucifixion. Millions of moviegoers will be exposed to the truth of Jesus' sacrifice-a truth that will impact hearts and lives around the world.
The Passion Of The Christ—The Original Motion Picture Soundtrack is the official music from this highly anticipated film. Produced in Europe, this Soundtrack captures the same powerful emotions from the film in a beautiful and moving orchestral score. Composed by Emmy Award-winning John Debney—producer of numerous motion picture soundtracks—this powerful CD includes majestic orchestral pieces and vocal selections in original biblical languages—drawing listeners into the reality and events of the last 12 hours of Jesus' life. Songs include "The Olive Garden," the "Crucifixion" and the "Resurrection."
Get The Passion Of The Christ—The Original Motion Picture Soundtrack with free shipping.
Also available: The Passion book is a visual portrayal of the last twelve hours in the life of Jesus. This new commemorative book retells the story of Christ's Passion as told in the film, but in vivid detail—over 160 pages of gripping photos taken on the set of the movie by award-winning photographers Ken Duncan and Philippe Antonello. With powerful pictorial images, corresponding scripture passages from the New Living Translation Bible and a Forward by Mel Gibson, this beautiful hardcover book is a compelling reminder of Christ's sacrifice—a sweeping overview of the Passion story that will enhance your movie experience. Order today—Shipping 3/11.