A Man's Role in the Home - Book Review
Whitney Hopler

Crosswalk.com Contributing Writer

2002

21 Oct

COMMENTS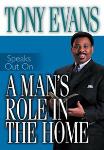 Author:  Tony Evans
Publisher:  Moody Press
There are few topics as controversial among Christians as the roles men and women are assigned to play in marriage.  Pastor Tony Evans boldly tackles that topic in this booklet and its companion volume for women.
Evans doesn't mince words as he writes about what it means for men to love their wives as Christ loves the church.  But his forthright style is tempered by warmth, and succeeds in drawing men's attention to this seldom-discussed issue.  Evans isn't afraid to confront husbands' excuses for not fulfilling their biblical roles, and his candor is refreshing rather than overbearing.  Along the way, he keeps pointing men to Jesus, and reminds them that serving and sacrificing for their wives is ultimately a love offering to Him.
Helpfully, Evans spells out each step he believes men should take to become healthy spiritual leaders in their marriages.  He backs up his points well with Scripture, but too often leaves readers wanting more illustrations.  Several times he briefly mentions comments that men (who he doesn't name) have made to him, but he never tells the stories of their marriages to show how God transformed them and their wives.  Evans forfeits great storytelling power by neglecting real-life examples in the book.  Toward the end, he does relate a brief story about his own father.  But as a pastor, Evans surely has numerous people in his congregation who could give him rich material for his books, and readers could benefit from their stories.
Readers may take offense at the terminology Evans uses to describe one part of a husband's role--that as "savior" for his wife.  What Evans really means is that husbands should model Christ's love for their wives.  It's unnecessary and quite alienating to use the term "savior"--even in lowercase--when referring to people rather than Christ.