"A Growing-Up Guide" - Book Review
Whitney Hopler

Crosswalk.com Contributing Writer

2003

2 Aug

COMMENTS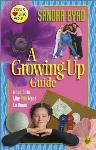 Author:     Sandra Byrd
Publisher: Bethany House Publishers

Growing from a little girl to a young woman is a process fraught with both excitement and anxiety.  But reading "A Growing-Up Guide: What Girls Like You Want to Know" offers lots of encouragement and practical help for girls navigating the sometimes bumpy roads of puberty.

Author Sandra Byrd deftly handles even the most awkward topics (like menstruation and dealing with temptation) with matter-of-fact frankness, and writes in a crisp yet engaging style that befriends readers.  She doesn't explain things in ways that are too complicated for girls to understand, but she doesn't talk down to them, either.  Her style should hit the mark with adolescent girls.

The book is divided into five sections: "My Body", "My Feelings, Moods, and Emotions", "Myself, My Family, My Friends", "My Life with God", and "School and Activities."  Byrd begins each section with a list of quotes that begins with the phrase, "Girls like you say …" and frequently introduces her topics with the subtitle "You Asked," followed by specific questions.  But she never makes it clear how she obtained those quotes and questions, and she doesn't attribute them to any specific girls.  As the author of several previous books for girls, she likely corresponds with readers, so maybe the quotes and questions are derived from that correspondence.  Or perhaps she conducted a survey of some kind.  Readers are left wondering.  Elsewhere in the book, Byrd does attribute poetry and ideas for mother-daughter bonding to specific girls, but still doesn't mention whether those contributions came from a survey or some other means.

Overall, though, "A Growing-Up Guide: What Girls Like You Want to Know" is an excellent companion for girls who are going through puberty.

Get 1 Christian Bestseller for FREE, plus FREE shipping.  Click  here for details.