A Love Worth Giving - Book Review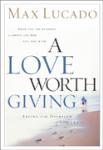 In the acknowledgments before the first chapter, Max Lucado admits that love is a subject that's tough even for him to write about.  And with the same simple and heartwarming style that's endeared his writing to readers over the years, Lucado dissects the familiar but mysterious commentary on love in 1 Corinthians 13.  While the Bible's depiction of what true love is has always defied culture's definition, that truth becomes even more apparent when Lucado unveils the key to loving one another.
Asserting that "before we can truly love one another we must receive love," the importance of immersing ourselves in God's love takes precedence in the book.  Weaving stories with commentary, the vividness of Lucado's descriptions drives the point home without seeming preachy.  Also providing an opportunity for the concepts' practical implementation, questions are sprinkled throughout the book, causing readers to consider what Lucado has to say and apply it to their life situations.
As in past works Where Angels Fear to Tread and Traveling Light, Lucado manages to take complex subject matter and break it down to digestible portions that are a surprisingly quick read with real takeaway value—a combination that's certainly welcome when most people's time for reading is limited.
Used by permission.  CCM Magazine © 2002