Attorney Proposes Bringing KJV Bible to Classroms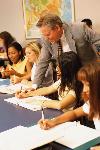 A Christian attorney in California has unveiled a new ballot initiative proposal that would make the King James Bible a textbook for public school students in the state.

Matt McLaughlin says due to some Supreme Court decisions that have been misinterpreted, God's Word has been completely removed from public schools. The Orange County attorney says his new ballot initiative — KingJamesTextbook.com — would amend the state constitution to allow use of the Bible in a non-devotional manner that is within current constitutional guidelines laid out by the high court.

"This will be voluntary. Parents will be able to opt out," McLaughlin says, "and we're not prescribing a religious curriculum. We're merely presenting the Bible as great literature, which it is, and to put it back in the public schools so it's available to be used by students that want to take advantage of that opportunity."

The proposed ballot measure would allow the use of the King James Bible as a textbook in public school literature classes. The initiative requires 600,000 voter signatures by May 24 to qualify for the ballot. McLaughlin says he is asking God to unite a "Gideon's Army" to bring it to pass.

If the author of the initiative is able to get enough signatures, voters will then get the chance to decide if the Bible can be used voluntarily for classroom instruction in grades one through twelve. McLaughlin says there are many reasons why he is pushing this initiative.

"The King James Bible doesn't have a copyright, so due to the fact that it's in the public domain, it can be published very inexpensively," he says, "and it's also one of those enduring touchstones of the English language. It has beautiful, powerful language — something that's been around for 400 years — and it's still the number-one selling Bible."

In fact, as Associated Press reports, this week marks the 400th anniversary of King James' command to create an authorized translation of the Bible to be used in all the churches of England. During the seven years between that command and the publication of the King James Version, some 50 of the most brilliant minds in the church and the universities of Oxford and Cambridge toiled over Greek and Hebrew texts and earlier English translations to create what many consider the greatest prose work in English — on a par with the works of Shakespeare.

McLaughlin says early opposition to his initiative has come from individuals who are not aware that the Bible is permitted in public schools.



© 2004 AgapePress.  All rights reserved.  Used with permission.

Associated Press contributed to this story.