Author Examines Value, Rising Popularity of Cell Groups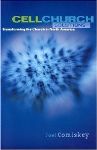 A Christian author says churches throughout the United States are discovering the benefits of growing and equipping small groups that meet outside of regular church services.
In his new book, "Cell Church Solutions: Transforming the Church in North America" (CCS Publishing, 2005), Joel Comiskey examines the growth of cell church groups throughout North America. He says cell groups thrive because they are based on the practices of early New Testament churches.
Comiskey points out that Christ's last command in scripture is for his followers to make disciples, and that that is the very thing the cell-church strategy focuses on doing. However, the author notes, "Christ [also] said ... 'the harvest is plentiful, the laborers are few' – and the cell church focuses on preparing and sending out laborers for the harvest. So that really is the essence of the cell church."
Cell groups are effective, Comiskey asserts, because they allow church members to respond to one another's needs and also to reach out and to evangelize neighbors, friends, and family members in a more personal way. Thus have such small groups allowed many congregations to more effectively meet the spiritual and physical needs of the people around them.
"In a cell group," the author of "Cell Solutions" notes, "you know the needs of the people. You can personally give an offering to that person who has a need, who is struggling without work or food or whatever. And small groups are taught to evangelize, to reach out in their communities, to befriend the neighbors, to reach out through friendship evangelism, to meet needs – and to draw those people into the cell, and eventually into the celebration as well."
Comiskey says churches with effective cell groups expect and encourage all members to participate in the small groups. And, he notes, more and more churches throughout the United States are realizing the efficacy of small group ministry and outreach, making the cell-group movement a trend that is growing in popularity daily.
For more information, visit Cell Church Solutions at www.cellchurchsolutions.com.

© 2005 AgapePress.  All rights reserved.  Used with permission.