Beyond Belief to Convictions - Book Review
Whitney Hopler

Crosswalk.com Contributing Writer

2002

3 Dec

COMMENTS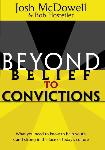 Authors:    Josh McDowell, Bob Hostetler, and Dave Bellis
Publisher: Tyndale House Publishers
Parents, teachers, and others who work with young people often fear that the children and teens they care about will succumb to the pressures of a culture hostile to faith and absolute truths.  Unfortunately, their fears often become reality.  But Beyond Belief to Convictions does more than just sound an alarm about the issue--something countless other books have done.  This book does something much more profound, by explaining the process of how young people--even those who hold orthodox Christian beliefs--can either stand or fall when confronted by an antagonistic culture and the suffering and stresses of life.
The remedy, says well-respected apologist Josh McDowell and his co-authors Bob Hostetler and Dave Bellis, lies in going "beyond belief" to help young people develop convictions.  "Having convictions," they write, "is being so thoroughly convinced that Christ and his Word are both objectively true and relationally meaningful that you act on your beliefs regardless of the consequences."
Beyond Belief to Convictions makes a fine stab at its lofty goal, helping its adult readers strengthen their own convictions while preparing them to nurture convictions in the young people they love.  The book is divided into five sections--one presenting the lack of convictions in our current culture, three explaining the reliability of foundational faith topics (God's deity and incarnation, the Bible, and the resurrection), and one encouraging readers to apply the book's insights in practical ways.
The authors provide just the right mix of crystal-clear prose, engaging illustrations, and informative research to hold readers' attention throughout the book's 300-plus pages.  But Beyond Belief's final section is disappointing, reading more like an advertisement for the extensive array of related resources Tyndale has planned than part of the narrative.  Some readers might be offended by this section's approach, but others will likely find it intriguing, especially since the authors invite readers to help them create future resources.