"Beyond the Sacred Page" - Book Review
Whitney Hopler

Crosswalk.com Contributing Writer

2003

9 Apr

COMMENTS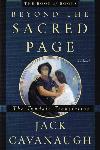 Author:    Jack Cavanaugh
Publisher: Zondervan
People sometimes take the Bible for granted today. It's readily available in most countries, and many people couldn't imagine the trouble some persecuted Christians must go through to obtain a copy. In the United States, studies have shown that most people own at least one copy of God's Word. Yet too often, they hardly ever make the effort to crack open the Bible's covers to read what's inside.
The new novel "Beyond the Sacred Page" reminds readers of the Bible's awesome power to change lives, and the passion God wants each person to have for the Scriptures. Set in England during 1535 and 1536, the book focuses on the controversy surrounding William Tyndale's English translation of the New Testament, which made the Bible accessible to common people in their own language. Author Jack Cavanaugh has created a fictional married couple, Pernell and Meg Foxe, and set them in the middle of a plot that also features historical characters such as Tyndale, King Henry VIII, and Queen Anne Boleyn.  His idea works very well, making history come alive for readers.
Cavanaugh has created refreshingly honest characters with both good and bad qualities (as all of us imperfect humans have). That contrast is displayed most notably in his depiction of Anne Boleyn, who sometimes spits out angry tirades, yet displays true kindness at other times. William Tyndale himself is barely mentioned in comparison to characters whose lives are changed by his translation. Cavanaugh has chosen to focus on others, it seems, to show the changes that God's Word can bring in people's hearts. And that's what proves the most fascinating for readers.
The plot is packed full of drama that sometimes throttles up to the level of melodrama (a near drowning, bloody axe murders, a last-minute rescue for a character tied to a burning stake, etc.). Toward the end, it sacrifices some of its believability when loose ends are tied up too abruptly, but generally, it's a thrilling read that should give readers fresh respect and gratitude for their Bibles.

Get 1 Christian Bestseller for FREE, plus FREE shipping.  Click here for details.