Book Talk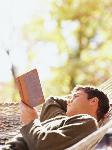 This past summer my next-door neighbor Whitney ran to my front door with book in hand. Wheezing from the jaunt, she whispered, "You gotta read this!" While shaking fresh grass clippings from her furry slippers, she continued, "You're gonna love it! There's a dog in it!"
My neighbor is 12. Her book was "Because of Winn Dixie," a children's novel by Kate DiCamillo. I read it and loved it.
 
My last vacation, I stopped by the essay section in the Davis-Kidd bookstore and bought a book by a well-known left-wing cultural commentator. While I'm not going to plug the title in this column, let's just say that my mind was stretched by the time I finished.
And I loved it.
Then there are the classics offered up in high school that I've revisited as an adult, "The Catcher in the Rye", "The Old Man and the Sea", and next, if I am on a transatlantic flight or in line at the DMV, "War and Peace."
Why spend time reading this stuff?
Oh, for so many good reasons. "Winn Dixie" was like getting lost at a matinee with a bunch of kids. There, tucked away in the back, humor becomes simple. Life falls into two categories: good or bad. Good triumphs eventually, and just like "Winn Dixie," you're a little reluctant to close the book at the end – you try to take a little of the simplicity with you into real life.
My 'essay' book was like having a non-hostile debate with an intelligent adversary. I found new ways to support my own values, and more surprisingly, I found that I had some common ground with the author. I was better for it, sharpened by it.
And the classics? They are like music. A great writer has a rhythm, a lilt – both emotionally and literally. Reading his/her finely crafted sentences is like listening to a moving song. The lines contain drama, unexpected revelations and multiple levels of understanding for those who would care to uncover them. Reading them made me a better thinker, a better communicator.
Reading a wide range of literature is, at the very least, good for you the way an apple is. It keeps you healthy – in your imagination and in your growth as a human being. It keeps you reaching for intelligence. It helps you solidify what you stand for, and against.
But perhaps best of all, in a culture where it is all about "ease of use," reading actually requires something of us – our full attention and intellectual engagement, all without a remote control and surround sound.
How refreshingly retro.

© 2005 CCM Magazine.  All rights reserved.  Used with permission.  Click here to subscribe.