Book Talk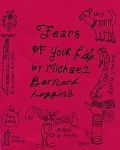 Last week, my friend April talked non-stop over salad at O'Charley's.  Since she was still going strong when the check came, I resorted to desperate measures. I grabbed her keys and wallet and tossed them in the middle of the aisle next to our table.  She immediately slid out of the booth, snatched up her belongings and said, "Guess I'm done."
"Done indeed." I rolled my eyes.
We laughed all the way to the car. 
The "wallet toss" as we refer to it, was a nifty little trick I learned from my developmentally-disabled sister, Janie.  Refreshingly honest and free in all her strengths and weaknesses, the wallet toss was her non-confrontational way of saying "Can't miss you till you're gone."
It had a certain tongue-in-cheek quality to it, yet it got the point across.
There is something about being free to tell the truth that is enviable and worth learning.  That is why I absolutely love the book "Fears of Your Life" (Manic-D-Press), written and illustrated by Michael Bernard Loggins — who is also developmentally disabled.  Part of San Francisco's Creativity Explored, a visual Arts Center where people like Michael and Janie have the wonderful "day job" of creating art from their perspective, Michael wrote hundreds of his–your–our fears in his own lovely vernacular.
The book is unbelievably poignant and laugh-out-loud funny.  There are the normal fears we all share on some level like #57: "Fear of being different."
Or #41: "Fear of getting in trouble by the law. When you aren't going by rules." (Oh, I'm sorry ... maybe that's just mine.)
And the more personal fears we hide like, #87: "Fear of getting hugged by somebody you don't like is scary," or #82: "Fear that if you are bad or naughty, no one is going to love you anymore."
And finally, the deeply emotional. #24: "Fear of you never know you were gonna lose your mother is very sad and scary. … You only wish that you could have done all you can do to help save her life."
The talent it takes to make you laugh and cry all in one sitting is one that eludes most aspiring writers.  Michael has it, and you need to experience it. This book is a beautiful reminder of how closely linked all of humanity is, no matter how much we differ. It's you, it's me, it's Michael and Janie.  It's earthy and relevant, and it's beautiful commentary that will warm and move you.
Creativity Explored is a visual arts center in San Francisco where artists with developmental disabilities have been creating and selling art for more than 20 years. To learn more, visit creativityexplored.org.

© 2005 CCM Magazine.  All rights reserved.  Used with permission.  Click here to subscribe.