Christian Cultural Analyst's Book Explores Church Leadership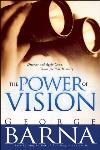 A Christian researcher says churches that make a difference in their communities have one thing in common:  leaders who effectively communicate a clear vision from God.

In his book "The Power of Vision" (Regal Books, 2003), George Barna defines vision as the specific steps that must be taken to fulfill God's broader mission for a church or ministry. But he says far too many churches are lacking a clear vision of God's plans and desires for them. Without a leader who is able to receive and articulate God's vision, such churches cannot realize their full potential, he says, because vision is indispensable to church growth.

The Christian researcher contends that a true leader must distinguish between God's vision and man's vision for a church. "You're a leader if God calls you to lead," he says, "but He doesn't call you to lead just to fill a position in an org chart. He calls you to lead because He knows that there's something within you that would enable you to take a concept of the future — i.e., vision — and make it real in this world."

Therefore, Barna says, if one is going to lead, that person needs to make sure that he or she is leading people toward the vision that God has instilled.

The author asserts that the successful church leader is one who has made God's vision the centerpiece of his or her ministry — the ideal on which the leader is completely focused and is attempting to focus other people's attention and energy.

Barna says to leaders who fail to do this, "the only thing that you can really lead people to is your vision and — without meaning to be demeaning — Who cares about your vision? We're not here to serve you. We're here to serve God, and therefore it's critically important that we focus on what God's vision for that future is."

According to the Church and Christian cultural analyst, a true visionary leader in a church will be characterized by humility, obedience, compassion, and dedication to God.


© 2003 AgapePress.  All rights reserved.  Used with permission.