Don't Look Back Keeps the Pages Turning Forward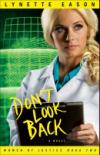 Author:
Lynette Eason
Title:
Don't Look Back
Publisher:
Revell
Jamie Cash endured a violent kidnapping 12 years ago, but she is nobody's victim now. The forensic anthropologist maintains a solid faith in Christ while continuing to work through the baggage she carries as a result of her horrific experience. Now, over a decade later, she's just beginning to believe she can allow herself to get romantically involved with a man.

FBI agent Dakota Richards wants to be that guy. Having occasionally collaborated with Jamie on a professional basis, he knows she lived through something traumatizing but is more than willing to work through it with her. He also has seen Jamie's strength of character, her professional skill, and her unusual faith—something he finds as intriguing as he finds Jamie herself.

When recently discovered bodies and bones show signs of a serial killer, Jamie realizes her captor, the "Hero," is back. Soon the threats escalate, directed at Jamie and her loved ones. The Hero believes he must wrap up his unfinished business from the past. Will he succeed? How does Jamie handle the renewed fears and stress of being hunted again? Can Dakota keep her safe this time? And who must die before the story ends?

As romantic suspense novels go, Don't Look Back will keep the pages turning, not to mention your stomach. Be prepared for a few scenes featuring all the gritty descriptions of decomposition, which Eason describes using multiple senses—sight and smell being the strongest. At the very least your nose will wrinkle and you'll be aware of what you last ate. Evoking such sensations proves Eason's skill at setting a scene.

The action lags a bit at the beginning, but once Jamie realizes the Hero is back, the tension ramps up and the pace quickens. I thought the author tipped her hand a bit too much on the identity of the Hero (I guessed who correctly pretty early). But the scenes flow smoothly together, and the suspense builds believably. You'll want to see how Jamie, Dakota, and their friends manage the tension, fear, and danger. I recommend you do not read this book close to bedtime if you wish to sleep peacefully.

Balancing skilled action writing with quality characterization is difficult for many writers, but Eason does both well. The Hero is as creepy as any good bad guy should be. But he's not one-sided—we learn much about his past, his motives, and his twisted thought process. Jamie is highly likeable, as is Dakota, but neither is perfect. One has emotional scars and the other is confused about his faith. The combination of those flaws, mixed with romantic attraction, propels the relational conflict forward nicely.

Don't Look Back, book two of Eason's Women of Justice series, also features a few familiar characters from Book One, Too Close to Home. Fans will enjoy Samantha's and Connor's contribution to the story. New readers should enjoy this work enough to be tempted to pick up Book One.


**This review first published on December 7, 2010.