"Down to Earth Discipling" - Book Review
Whitney Hopler

Crosswalk.com Contributing Writer

2003

16 May

COMMENTS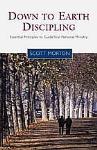 Author:     Scott Morton
Publisher: NavPress

In the United States, we've been blessed by an abundance of churches and thoughtful ministry programs, yet scores of people who could benefit from them never take advantage of them.  Why?  Because they lack relationships with Christians who genuinely care about them personally, writes author Scott Morton in his new book "Down to Earth Discipling: Essential Principles to Guide Your Personal Ministry."  It's those personal connections that will prove most effective at bringing people to Christ and helping them grow, says Morton, who has spent years mentoring people through his work at The Navigators.  One-on-one relationships in which Christians befriend and spiritually mentor non-Christians are invaluable, he says, and everyone can -- and should -- participate in them.

That's a valuable message that needs to be heard.  And Morton does a great job of convincing readers to listen, drawing upon his rich mentoring experiences to include lots of helpful examples of what mentoring can do.  Actually, even though the book's title refers just to discipling, Morton discusses evangelizing just as much.

The book provides lots of highly practical tips for readers, which should especially help those who are reticent about sharing their faith.  But although Morton emphasizes that mentoring doesn't follow a formula, he presents so many diagrams that readers can receive the opposite impression.  At times, all the diagrams become too cumbersome.

The book's long appendix is like a study guide, packed with useful information that mentors and mentorees can discuss.  It covers a myriad of topics, including assurance of salvation, devotional life, sexual temptation, and how to handle money.

"Down to Earth Discipling: Essential Principles to Guide Your Personal Ministry" is a valuable handbook that readers can trust to help them every step of the way in mentoring relationships.

Get 1 Christian Bestseller for FREE, plus FREE shipping.  Click here for details.