Billerbeck Returns with A Billion Reasons Why
Kelley Mathews

kelleymathews.com

2011

7 Mar

COMMENTS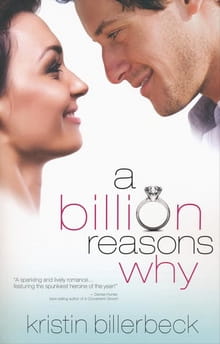 Author: Kristin Billerbeck
Title: A Billion Reasons Why
Publisher: Thomas Nelson
With A Billion Reasons Why, Kristin Billerbeck returns to the chick lit scene with her first true romance for adults in over four years. And while readers won't find a literal billion reasons why they'll love the book, they are sure to find quite a few.

Katie McKenna thinks she's content being almost engaged to a handsome, practical, intellectual, safe, nice (and did we mention boring) guy. After the spectacular and humiliating end to her previous relationship eight years earlier, Katie is happy with bland Dexter. She has convinced herself that he has all the characteristics a good Christian girl should ever look for. And if the romantic sparks don't fly very far, well, that just proves he's the right man for her. Because her last romance went up in flames, and who needs that kind of drama again?

Apparently Katie does. The man who rejected her so long ago has returned. Luc DeForges says he just wants her to go home to New Orleans to sing at his brother's wedding. He'll pay her way back and help her recover her grandmother's ring so Dexter can finally propose. But his actions betray ulterior motives. Katie must return to the scene of her greatest humiliation, with the man who caused her the ultimate heartache.

She thinks she's seeking closure, but which relationship is she about to end?

Billerbeck must surely have traveled to the Big Easy for research purposes—her depictions of the French Quarter are accurate, the ambiance authentic. I could smell the crawfish, too. She has a lot of fun with the 1940s swing music and dance styles—an integral part of the story—bringing them alive through vivid descriptions of costumes, hats, smoky bars, and old movies.

The women characters are much more developed than the men. Katie's emotional journey drives the plot, of course, but several secondary female characters jump through the pages in a delightful way. Her friend Eileen provides some laugh-out-loud lines, and Katie's mother embodies New Orleans' color and culture.

But the two men, while likeable in different ways, come across somewhat flat—especially Dexter. He's boring from page one, and we are all supposed to know it. Whether that is a good or bad thing, we must apparently decide along with Katie. But unless there's a surprising twist at the end, Dexter kind of plods along. Luc plays "Mr. Nice Guy" throughout the story, although he is somewhat more complex because we don't know all of his motives for actions past or present. Plus, he's a billionaire (almost), which adds an interesting element to his character. And readers want to know if he's truly going to be good for Katie this time around.

Two related themes weave throughout the story: forgiveness and freedom. Katie discovers the hard way that she must forgive in order to be free. How that plays out will both enlighten and entertain readers. While not Billerbeck's finest offering (Ashley Stockingdale still wins out), A Billion Reasons Why will give you a few hundred minutes of enjoyable reading.