Bathsheba a New Take on an Old Story
Susan Ellingburg

Crosswalk.com Contributing Writer

2011

20 Apr

COMMENTS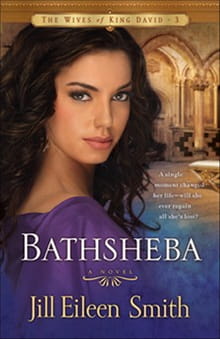 Author: Jill Eileen Smith
Title: Bathsheba
Publisher: Revell
Lest you think sex symbols are modern phenomena, let us take a moment to consider King David (he of David and Goliath fame). Brave, strong, movie-star handsome, a manly man with a sensitive, poetic side—not to mention rich, famous, and powerful—David set the hearts of ancient Israel's females aflutter. He could have any woman he wanted.
Or could he?
The final chapter of Jill Eileen Smith's Wives of King David series brings the story of David and Bathsheba to life in a beautifully researched page-turner of a novel. The story of David and Bathsheba is so familiar in church-going circles it has almost become a cliché. We've heard all about David's wandering eye, adulterous liaison, and murderous cover-up ... but we've never heard it quite like this.
Bathsheba is a lonely, slightly spoiled young beauty with too much time on her hands. She's a nice girl with a nice husband and a nice home in a nice neighborhood. She knows she's blessed. And yet ... Uriah, Bathsheba's husband, is one of the king's elite "Thirty," which means he spends a lot of time off fighting wars for king and country. Bathsheba loves Uriah dearly. Still, when you're not with the one you love―especially when the separation lasts for months on end―it can become frighteningly easy to love the one you're with. In Bathsheba's case, that would be the king.
While Uriah is on the battlefield, His Royal Highness is mourning his wife Abigail and can't seem to get his act together. David really ought to get off his royal backside and lead his men to war, but instead he mopes on the palace roof, spying on his neighbors ... including the lovely wife of one of his most loyal subjects.
You know where this is leading, right? And yet the familiar story seems fresh in Smith's capable hands. After all, we normally don't see Bathsheba's side of the story. What did she think when she "got the call" from the palace? Was she thrilled? Did she want to refuse? Did she think she could? (Sexual harassment was alive and well in the B.C. days and David was her husband's boss.) How did she feel when she realized she was pregnant? Remember, the penalty for adultery—even adultery with the king—was death by stoning and it was painfully obvious her absent husband wasn't the father of her child.
Smith's story delves into all these questions and more. Bathsheba has a lot to deal with: desire, guilt, loss, political intrigue. She's a God-fearing girl, but after blowing it so badly can she possibly find forgiveness from her Creator? Or has she passed the point of no return?
David and Bathsheba's sin may have taken place centuries ago but the situation is as modern as yesterday's tabloids. In Bathsheba the reader walks with our heroine through the desperation of guilt, the devastation of betrayal, and the restoration that can only come through the grace of God.