"Finding a Lasting Love" - Book Review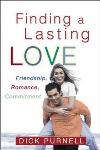 Author:     Dick Purnell
Publisher: Harvest House
Books for singles seem to be multiplying on the shelves of your favorite bookstore these days, but how many are really worth investigating? "Finding a Lasting Love" is a shining exception from the norm.
By sharing his own story of singleness that lasted until age 42, Dick Purnell immediately builds rapport with his audience and establishes that he knows what it is like to wait and wait for the right person. Unlike other singles writers, when he quickly launches into the "first, you must work on yourself" routine, it's not such a slap in the face.
Purnell emphasizes balancing the social, mental, emotional, physical and spiritual aspects of a relationship. It's not exactly rocket science but important nonetheless.
Perhaps the most valuable part of this book is the "Hindrances to a Lasting Love" section. Whether it's losing transparency or pressing for instant intimacy — traps many a well-intentioned single falls into — he offers valuable insight on how to avoid these pitfalls. 

Used by permission.  CCM Magazine © 2003  Click here to subscribe.