Fractured Father-Son Relationship the Focus in "High Places"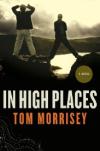 Author: Tom Morrisey
Title: "In High Places"
Publisher: Bethany House
"In High Places" is a wonderful work of literary merit that probes the fractured relationship between father and son after their mother shockingly takes her life while they're away on a climbing trip in West Virginia.
Tom Morrisey's narrative voice is well developed and his prose is sophisticated; this is truly a well written novel that digs into the uncertainty and unexpectedness of life. Morrisey clearly shows off his writing chops, which speaks very well of his English and creative writing background at Bowling Green University.
At once manly, warmly nostalgic and deeply sensitive, "In High Places" explores salvation and established Christianity from the other side of the fence in a first-person narrative that's so powerful it reads less like a work of fiction and more like a revealing memoir.
Sixteen year-old narrator Patrick Nolan is crafted perfectly, teetering at the cusp of manhood but still inexperienced, often rash, and very, very realistic. It's always a balancing act when taking a teen or child and making them prime characters in adult fiction; as it's difficult to make them believable, full of depth, and not "YA-ish" (Young Adult literature). Patrick is both man and boy, and by novel's end, readers will feel connected to him in a vibrant, visceral way.
Though "In High Places" tells a story of salvation, redemption, forgiveness, and trusting God, it has a broader appeal, especially because Patrick Nolan tells his story from the other side, coming to know Christ from a position of complete ignorance. It's realistic in its presentation; Patrick's main motivation for attending church is not to soothe the pain of his mother's death or find what's missing in life, but Rachel, the stunning preacher's daughter.
Even though mountain climbing and climbing lingo play large roles in the story, those unfamiliar or uninterested in climbing will still enjoy this novel. This is a story about father and son, and what God can do to heal the breach of hurt and loss. On a passing note, each chapter is preceded by climber's aide quotes taken from poplar climbing manuals, and after close inspection, you'll see that every quote has an intrinsic connection to the emotional tones and patterns of the following passage. This is the work of a meticulous artist whose attention to detail and word choice makes you think of Ernest Hemingway.
The ending of the novel is touching as well, content to leave Patrick and the reader wondering about the "what-if's" and "what might have beens" of life, but it doesn't close on a depressing note. Rather, the novel reaffirms in an introspective way one of the story's central tenets: not only is hope often all we have to hold to, it's also enough.


© 2007 Infuze Magazine. All rights reserved. Used with permission.