"Germ" Another Riveting Page-Turner From Robert Liparulo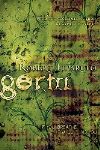 Author:  Robert Liparulo
Title:  "Germ"
Publisher:  WestBow Press
Fresh off of great success and critical and mainstream acclaim for his supernatural thriller, "Comes a Horseman," Robert Liparulo marches back into the suspense genre with another riveting page-turner, "Germ." 

"Germ" leaps right off of the newspaper headlines, dealing in the realm of biological warfare and high adventure at it's best, and most terrifying. Playing on the imagination, fear, and honest possibilities that could inhabit our very world, the story wrenches the heart. From the first page out, you'll find yourself compelled to read on, yearning to discover what happens next.
The "germ" that the story derives its title from here is an altered strain of the Ebola virus, this one designed to target specific strains of DNA. A deranged scientist has perfected the virus and has worked toward infecting ten thousand U.S. citizens in order to show his power and instill fear. One of his key people, however, has defected and gets away with some key evidence.
This evidence eventually falls into the hands of federal agent, Julia Matheson. Matheson finds herself in a race for her life along with a respected doctor, Alan Parker, and his pastor brother, Stephen Parker. The three have inadvertently come into possession of a high tech computer chip and information that someone wants to take back with their lives. In fact, contract killers from what appear to be the government are hot on their trail and the three must scurry about the southeast United States in order to stay alive. Add to the mix a government cover-up, a chilling video, and a possessed mythic mercenary and you have all the ingredients for a heart-pounding read.
Liparulo writes in a style that is akin to fellow authors David Morrell and Dan Brown. Possessing an action-based style, the storyline moves quickly yet allows for character development along the way. Short chapters make for what seems to be quicker reading and the pace really never lets up. There are points that falter in terms of dialogue but the action sweeps in and one quickly forgets about it. Movement and story are key here and drive the machine. Liparulo paints a picture with the best of them and "Germ" is no exception.
Non-stop adventure, grisly shootouts, and a race against time. If these are elements that sound good to you, "Germ" is for you. Liparulo's work here will not leave you disappointed. The only thought you'll have as you finish will be as to who will be playing the parts when this work gets optioned for a film. Maybe Patrick Dempsey as Dr. Parker?

 © 2006 Infuze Magazine.  All rights reserved.  Used with permission.