Gideon's Gift - Book Review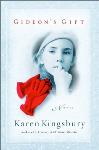 Author:      Karen Kingsbury
Publisher:  Warner Books
Kingsbury, author of A Treasury of Christmas Miracles, has written another heartwarming holiday tale that should please readers old and young. 
When Earl Badgett tragically loses his beloved wife and daughter, he turns his back on society and takes to the streets. He appears to be unreachable—until 8-year-old Gideon Mercer, a leukemia patient, decides to do her best to make him believe in miracles again.
Make sure you have plenty of tissues available as you read because the story will doubtless move you time and again.  Gideon's Gift is an uplifting and easy read that the whole family can enjoy at Christmas or any time.
Used by permission.  CCM Magazine © 2002
Buy Gideon's Gift now at www.lifewaystores.com!