"High Definition Living" - Book Review
Whitney Hopler

Crosswalk.com Contributing Writer

2003

7 Apr

COMMENTS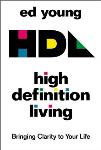 Author:     Ed Young
Publisher: Howard Publishing Company
The new book "High Definition Living: Bringing Clarity to Your Life's Mission" is bursting at the seams with catchy leadership principles, and author Ed Young writes with great enthusiasm as he encourages readers to think of themselves as leaders wherever God has placed them in life.  But after awhile, the book's rapid-fire delivery of principle after principle becomes overwhelming and irksome.
The book's concept is simple enough – all people, regardless of their circumstances, can discover more clearly how they can fulfill God's mission for their lives.  But the problem is that the concept is so broad and general that it encompasses too much, sending readers scrambling between topics that range from integrity and creativity to persistence and organization.  The topics Young covers are all worthwhile, but he deals with each one so briefly before he moves onto the next that he doesn't achieve sufficient depth for any of his topics.  Instead, he constantly delivers common-sense platitudes dressed up in fancy language, such as, "When you make time for think time, your think time will make time," and "Leaders transfer the vision from me to we."
It was a great idea to use the Old Testament prophet Nehemiah as a leadership model, which Young does throughout the book.  But he doesn't supplement his great biblical examples with enough contemporary examples.  And as the pastor of a mega-church, he surely knows enough people from which to derive some good anecdotes.  It would have been great for him to have done some interviews and included the resulting material in his book.
"High Definition Living: Bringing Clarity to Your Life's Mission" offers lots of wise nuggets, but unfortunately is itself in need of a sharper focus.

Get 1 Christian Bestseller for FREE, plus FREE shipping.  Click here for details.