Hip, Hug, Hooray! - Book Review
Whitney Hopler

Crosswalk.com Contributing Writer

2002

18 Nov

COMMENTS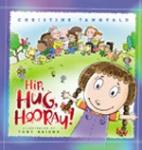 Author:      Christine Tangvald
Illustrator:  Tony Griego
Publisher:  Bethany Backyard
Young children love to give and receive hugs, so a book about hugs is a great choice for a parents looking for stories to read to their two-to-five-year-old kids.  And Hip, Hug, Hooray! will likely set youngsters off on a hugging spree--which is a benefit that parents looking for affection can reap from their investment in the book.
The text, by Christine Tangvald, is engaging and often lyrical, although the rhymes are inconsistent.  It may have been better to stick with all-rhyming or non-rhyming text throughout rather than switching back and forth.  Still, Tangvald writes entertainingly about various kinds of hugs, and manages to present quite a few examples.  But after showing readers so many different ways people can hug each other, the book disappoints readers with its vagueness at the end when it mentions God.  Simply stating, "And the best thing is, God hugs me every day in every way," raises the question of how God can (figuratively, of course) hug people.  Is it through answering prayers, being ever-present, or something else?  It would be great if Tangvald would provide some specifics here, just as she does when talking about hugs between people.  Perhaps readers on the younger end of the book's age range wouldn't be concerned about that, but my 4-year-old daughter asked me afterward how God hugs people, and I suspect other kids will wonder the same thing.
The book's winsome illustrations by Tony Griego are captivating.  And observant readers will spot a young boy on nearly every page, observing the action from afar with a subtly sad look on his face.  But by the end, when a crowd of children rushes toward Jesus to hug Him, the boy has joined the others and is smiling.  On the book's last page, the still-smiling boy is shown finally taking part in the hugging action.
Buy Hip, Hug, Hooray at www.lifewaystores.com!