Jesus Freaks II Raises Awareness of Persecution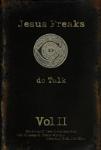 GRAMMY and Dove Award-winning music group dc Talk releases their literary follow-up to Jesus Freaks this month, titled Jesus Freaks II:  Men and Women Who Changed Their World for God.
While Jesus Freaks offered stories of martyrs past and present, Jesus Freaks II contains awe-inspiring, unforgettable true accounts of saints from all ages.  Inspiring life stories, including those of Corrie ten Boom, Martin Luther, William and Catherine Booth, challenge readers to stand up for Jesus in their own lives and pray for the persecuted church around the world. 
"In a world built on free will instead of God's will," shares Michael Tait of dc Talk, "we must be the 'Freaks'.  While we may not be called to martyr our lives, we must martyr our way of living."
An excerpt is available to read at www.jesusfreaks.net, where readers are also challenged to get involved through prayer, sharing the Gospel, writing their elected officials, and other activities that will help them identify with the persecuted church. 
Comprised of Michael Tait, Toby McKeehan, and Kevin Max, dc Talk has won four GRAMMYs and have one double platinum album, three platinum albums and one gold album to their credit.  Last year, the group began a sabbatical to pursue solo projects. 
Michael Tait formed the band Tait and released Empty, Toby McKeehan (a.k.a. tobyMac) released Momentum, and Kevin Max released Stereotype Be.  Tait is currently on tour with Third Day, while tobyMac is co-headlining the Festival Con Dios tour this fall.