"Keep the Change" - Book Review
Whitney Hopler

Crosswalk.com Contributing Writer

2003

7 Aug

COMMENTS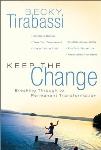 Author:     Becky Tirabassi
Publisher: Integrity Publishers

Becky Tirabassi, author of several other books about change, focuses on helping people keep the changes they've made in their lives permanently in her new book, "Keep the Change: Breaking through to Permanent Transformation."  She promises in the book's introduction to act as a friend and accountability partner to readers as they go through the book, and she keeps that promise well.

As any motivational book should be, "Keep the Change" is interactive, giving readers opportunities to personalize and apply its principles.  But this book offers more than just a study guide tacked on at the end.  Thought-provoking questions and writing assignments are woven throughout each of its chapters.

Tirabassi sets out to encourage and motivate a very general audience – no matter what their struggles – from breaking free of bad habits to healing broken relationships to pursuing seemingly impossible dreams.  The wide net she casts limits the depth to which she can pursue any single topic, but her principles do apply well to each of the subjects she discusses.  Whatever her current focus, Tirabassi does a good job of explaining how the process of identifying lies and replacing them with truth can lead to lasting transformation.  The chapter titled "Protect Your Mind" is particularly intriguing.

Tirabassi's use of capital letters for emphasis throughout the text is mildly irritating, but that's a small complaint.  More distracting is the amount of text she devotes to her own struggles with obtaining a daily radio and television show; she discusses it so much that it starts to come across as an obsession and, unfortunately, alienates readers.  But whenever she shares her past struggles with other issues – such as alcoholism, unhealthy eating habits, and anger – she is much more effective.

At the beginning of the book, Tirabassi encourages readers to e-mail her with their goals, and at the end, she asks them to send her their answers to the questions she has posed.  Doing so should help readers stay accountable in their efforts to make lasting changes.

Get 1 Christian Bestseller for FREE, plus FREE shipping.  Click  here for details.