Legend and Fiction Uniquely Woven in "Emerald Rose"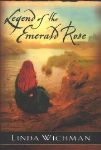 Author:  Linda Wichman
Title:  "Legend of the Emerald Rose"
Publisher:  Kregel
Shadoe von Hollo Tors, former apprentice to King Arthur Pendragon, has returned to the last place on earth he wants to be – his childhood home on the Isle of Wind Haven, off the western coast of Caldonia (Scotland). His memories are painful ones, for it is here Shadoe lost everything important to him – friends, family and his faith.

But a recurring nightmare has driven him from the Italian coast and back home to face the demons, physical and spiritual, of his past and to fulfill a promise made to his dying father, Merlin. He plans to silence the past and keep his word in as short a time as possible, then leave Wind Haven, never to return.
Which is just fine with Emerald Rose Rayn. She is forced to save the handsome stranger from drowning after her pet eagle sends him tumbling into the loch. She is both drawn to and repulsed by the man she's tugged from Loch Lady. She's certain he's another fortune hunter, after Arthur's mystical sword, Excalibur. She leaves the unconscious man on the shores of the lake, with the hope he will leave and the fear he will not.
But the two are bound together by a common past – one that Shadoe has long tried to escape and Rayn is beginning to discover. Shadoe's return puts into play events foretold long ago and reawakens an old jealousies and a struggle for an ancient throne. Rayn struggles as the life she once knew clashes with one that begins to unfold. Powers from the spirit world will do what they must to gain Rayn's loyalty. The Druid priestess and sorceress Morgause le Fay and her son Mordred vow to take Arthur's throne. And Sir Lancelot with the surviving Knights of the Round Table, gather around the last Pendragon for the final battle over Camelot.
Linda Wichman weaves Arthurian legend and fiction to create a unique story. She uses just the right amount of Celtic accent to add a level of authenticity to the book, but not so much it muddles the reader. Her use of historic detail, characters with personality, and in-depth knowledge of the time period create a story-world that draws the reader in from the first word. A book I'd recommend without hesitation.


 © 2006 Infuze Magazine.  All rights reserved.  Used with permission.