Lessons I Learned in the Dark - Book Review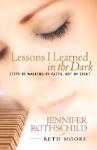 Author:  Jennifer Rothschild
Publisher:  Multnomah Publishers
Blind since her teenage years, Jennifer Rothschild gives a testimony that seems to be a twist on the famous hymn lyrics "…was blind, but now I see."
As she adjusted to physical blindness, Rothschild found that her "spiritual blindness" diminished.  In Lessons I Learned in the Dark, she tells of the truths God graciously showed her as she began to rely fully on Him.
The account is well written and poignantly sincere.  A far cry from a tale of self-pity, Rothschild points her audience to God's gracious love and guidance.  Her message:  Christians are called to live in complete abandonment to and blind faith in the God of the great heroes of faith in Hebrews 11. 
She powerfully compels her reader to grasp the biblical claim:  "Now faith is being sure of what we hope for and certain of what we do not see" (Heb. 11:1, NIV).
Used by permission.  CCM Magazine © 2002