Let There Be Light - Book Review
Whitney Hopler

Crosswalk.com Contributing Writer

2002

14 Nov

COMMENTS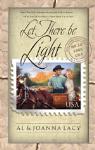 Authors:     Al & Joanna Lacy
Publisher:  Multnomah Publishers, Inc.
The plot of Let There Be Light, the 10th book in Multnomah Publishers' "Mail Order Bride" series, is masterfully woven, delivering just the right amount of intrigue to capture readers' attention and hold it throughout the book's 305 pages.  But the book's dialogue is so contrived that the characters lose their credibility in the midst of the exciting action.
Let There Be Light tells the story of a teen girl's heartbreaking losses and subsequent plan for revenge during the Civil War's final phases and shortly afterward.  Readers can easily be drawn in by the drama of how the heroine, Jenny, loses both her parents plus the man she'd hoped to marry, then responds to an ad for a mail order bride that she believes was placed by her father's murderer.  Intent on marrying, then killing him, Jenny has a salvation experience that transforms her heart before she carries out her plan, then discovers that she had the wrong guy pegged after all.
But it's often a downright painful experience to slog through the book's dialogue, and readers may roll their eyes and yawn so much in the process that they may not want to see how the plot ends.  The problem:  When characters speak, they're just not believable, and often sound ludicrous.  They explain their feelings--which are already obvious from their actions--in great detail, as if they're answering questions in a psychological exam.  And they often use trite or clichéd expressions.
 
Even more troubling is that authors Al and Joanna Lacy hit readers hard over their heads with sermons as often as possible rather than just letting the story itself show God's transforming love.  (At one point, two soldiers in a prison camp sound as if they're trying to present the entire Bible's message through their conversation).  Sadly, seekers who read this book will likely be completely turned off.
Buy Let There Be Light now at www.lifewaystores.com!