Max Lucado's New Book Explores King David's Life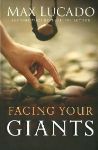 Max Lucado's new book, "Facing Your Giants" (W Publishing Group, 2006), focuses on the life of Israel's greatest earthly ruler, King David.

In exploring the story of the biblical shepherd boy turned warrior and king, the best-selling Christian author seeks to help believers today conquer their fears, their habits and their hang-ups.
Although King David had many instances in which he failed, his life serves as a practical model for Christians, Lucado asserts. "Rather than focus so much on our problems," he counsels, believers must "lift up your eyes and focus more on God. Give him more 'press time.' Give him more attention."
Whenever King David fixed his eyes on God instead of his difficulties, the Hebrew leader experienced victory, the popular author notes. And the same principle applies to believers to day, he says.
If Christians who are facing obstacles today will only make God their focal point and "keep the spotlight on him," Lucado says, "you'll be amazed how much courage that gives you with which you can face your giants." After all, he points out, Scripture says David "encouraged himself in the Lord his God."
In fact, the actual "hero of the David story is God, because God forgave, God used, and God never exiled David," the Christian writer contends. "God continued to call him back into the family on good days and bad," he says, "and the promise and the message of David's story is that God will do the same for us."
King David is one of the only key Bible characters whose life is largely devoid of supernatural miracles, Lucado asserts. Yet David overcame tremendous obstacles, setbacks, and personal failures, the author notes, and he says modern-day Christians can learn to overcome many of the "giants" in their lives as well by studying the dramatic life of David.

© 2006 AgapePress.  All rights reserved.  Used with permission.