New Book Helps Christians Achieve True Transformation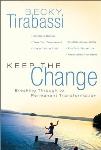 A Christian author is trying to help believers make lasting changes in their lives.

In her new book, "Keep the Change: Breaking Through to Permanent Transformation" (Integrity Publishers, 2003), Becky Tirabassi says many Christians are not enjoying the abundant life promised by Christ because they lack a plan for permanent transformation.

The author of several best-selling inspirational books and founder of the multi-media company, Becky Tirabassi - Change Your Life, Inc., says believers must develop a systematic strategy for pursuing abundant life and spiritual growth.

"By talking to God daily about the areas in your life you want to change, it will have the same result as business people who have written goals — they look at them daily and develop small increments of ways to achieve their goals," Tirabassi says.

In the same way, Tirabassi encourages Christians to write out their goals for lasting change and then commit them to God in prayer on a daily basis.  "Imagine," she says, "if you lay out your goals with God and ask Him to help you, you've added this extra supernatural power to the goals you've set for yourself."

The popular author and spokeswoman has gone through her own struggles for change. She recently celebrated her 25th year of sobriety, and points to prayer as an important discipline. Tirabassi says for the past 20 years, she has observed a one-hour daily prayer time.

The author urges the importance of opening one's heart to God, and encourages believers to pray and to keep a journal of their requests, hopes, and dreams. "I believe in prayer we really, you know, get God's ideas for our life," she says.

In "Keep the Change," Tirabassi outlines steps that can help Christians experience permanent transformation in their lives.


© 2003 AgapePress.  All rights reserved.  Used with permission.