Real Teens, Real Stories, Real Life - Book Review
Whitney Hopler

Crosswalk.com Contributing Writer

2003

24 Jan

COMMENTS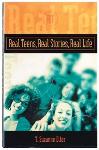 Author:     T. Suzanne Eller
Publisher: RiverOak Publishing
Teens are most apt to listen to their peers--other teens who share their joys and struggles on the road from childhood to adulthood.  That's why books written for teens by adults so often miss the mark, no matter how much sage advice they contain.  Thankfully, Real Teens, Real Stories, Real Life lets teens speak for themselves, from their own experiences.
And they speak with such honesty and raw emotion that readers can't help but be completely captivated by their stories.  Author T. Suzanne Eller has done a great job of gathering material from real teens nationwide and presenting it so that the teens' fresh voices come through.
Each essay or poem deals with how a particular teen encountered Christ in a way that transformed him or her.  But these are not the sanitized testimonies that people sometimes give in Sunday School.  These stories have the authenticity one would expect from a documentary--and the dramatic impact, as well.  The teens courageously deal with topics such as suicide, pornography, and drug abuse head-on, and in the process, they truly show how Christ's love and power are boundless.  That's a message that's sure to give teen readers the hope they need, regardless of their circumstances.  And adults can gain valuable insight into the thoughts and feelings of teens by reading the book themselves.
Anyone reading this book should be prepared to block out a few hours to read it straight through.  It's so compelling that it's nearly impossible to put down.