Riveting Political Thriller Reveals D.C.'s Dark Side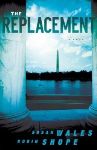 Title:  "The Replacement"
Authors:  Susan Wales & Robin Shope
Publisher:  Revell
Gazette investigative reporter Jill Lewis has covered Capitol Hill for years. So it's no big deal when a high-profile senator calls her with an urgent meeting request. She juggles her schedule and waits for him on the Capitol steps. But he never arrives. Suffering a massive stroke practically at Jill's feet, Senator George Brown is dead within days, and his rumored successor, Senator Tommy Harrison, shoots to the top of Jill's must-interview list.
When she finally obtains a face-to-face meeting with Harrison, Jill hopes for explosive information to include in her Gazette articles. She doesn't expect Harrison to dump a bomb in her lap. He believes Senator Brown was murdered, and not with a conventional weapon either, but with a powerful drug called MST. Banned by the FDA (thanks to pressure from Senator Brown), its formula includes the venom of the saw-scaled viper.
Jumping in with both feet to cover the story, Jill's life spins into a whirlwind of speculation and fact digging. Just who is Senator Tommy Harrison? How did his wife die? And what about the mysterious young woman who's convinced she's being followed for misplacing a Fish & Game Commission file? The facts don't add up, and Jill's determined to find out why.
Jill Lewis, as any amateur sleuth worth her salt, is full of inquisitiveness and go-get-'em spunk, which lands her in one harrowing scrape after another. Through it all she presses on, and the twisting plot speeds forward, albeit sometimes a little too quickly. Several of the key action scenes feel rushed, and Jill seems to miraculously recover from a few harrowing experiences much faster than the average Jane. However, these are tiny quibbles for an otherwise riveting story.
Wales and Shope had me guessing and re-guessing the novel's outcome (and its villain) until the very end. And while it does read as a stand-alone, I get the feeling I'm missing out on some characterization of Jill and her fiancé from the authors' previous book, "The Chase."
Susan Wales and Robin Shope team up with a writing style that melds the plucky heroine of a chick-lit or romance novel with the danger and plot twists of straight suspense. It's a winning combination fans of Dee Henderson, Kathi Mills-Macias, and other romantic suspense authors will thoroughly enjoy. I smell a third book, which is a good thing.


 © 2006 Infuze Magazine.  All rights reserved.  Used with permission.