Ruth Graham, Daughter Share from Book on GMA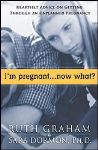 Ventura, California. (March 18, 2005) — On Wednesday, March 16, 2005, Ruth Graham, daughter of worldwide evangelist Billy Graham, appeared with her daughter Windsor on ABC's "Good Morning America" to candidly share from Windsor's personal experience of walking through an unplanned pregnancy. 

Their story, shared in the book "I'm Pregnant … Now What?" (Regal, November 2004), co-authored by Ruth Graham and clinical psychologist and crisis pregnancy specialist Sara Dormon, was prominently displayed and discussed during the television broadcast.  An excerpt from the book was posted on "Good Morning America"'s website, and received a #12 ranking on their website as one of the most popular pages on the website for the day of the broadcast.  By noon on March 16, "I'm Pregnant … Now What?" was ranked #2,500 on Amazon.com, up from a ranking of #134,552 at 2:00 p.m. the previous day.
In "I'm Pregnant … Now What?" (Regal, November 2004), Ruth Graham takes the reader into her personal life as she shares the story of her daughter, Windsor, who became pregnant not once, but twice, before the age of 20. Along with Dormon, Graham gives honest, practical advice and thought provoking insight on how to survive an unplanned pregnancy.

Together, they maternally walk through the toughest topics:  abortion, adoption, support, apathy, condemnation and absentee fathers. Graham and Dorman additionally draw from the experiences of others, including former Cover Girl model Jennifer O'Neill and actress Hunter Tylo who both chose to abort unexpected pregnancies.
Refreshingly, "I'm Pregnant … Now What?" is not a book about condemnation nor repentance. It is a book birthed from compassionate hearts that are most concerned with helping young women make informed decisions, teaching them how to give and receive love again and what to do once the baby is born. By providing beneficial information for all those effected by an unplanned pregnancy, this book is also a tool for community leaders, educators and even youth that are involved in sexual relationships.
Syndicated radio show hostess, and adoptive mother, Delilah calls "I'm Pregnant … Now What?," "an incredibly insightful collection of stories and shared bits of wisdom to help any young woman who finds herself unexpectedly pregnant. A book that looks at unplanned pregnancies honestly and helps you find your way through the maze of confusion."

Ruth Graham, the daughter of evangelist Billy Graham, is an author and national speaker for unplanned pregnancy.  Because of her daughter's two teenaged-pregnancies, Ruth has traveled extensively, sharing about her experience to help young women and their families through similar hardships.  Ruth is currently on the board for Birthmothers.
Sara Dormon, Ph.D. is a clinical psychologist specializing in women's issues and crisis pregnancies.  For the past 25 years, she has worked with young women and their families as they deal with unplanned pregnancies.  Sara has been featured on television and radio interviews, covering the issues of teen pregnancy, abortion and adoption.

Provided by Regal Books