"Saving Alice" a Decent Exploration of One's Life Choices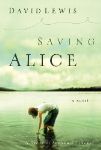 Title:  "Saving Alice"
Author:  David Lewis
Publisher:  Bethany House 
Whether writing with his wife Beverly Lewis ("Sanctuary") or on his first "solo" release in 2004, "Coming Home," David Lewis has hit the Christian fiction bestseller list right out of the gate. With his recently released second novel, "Saving Alice," Lewis is likely going to keep his streak intact.
From a foundational perspective, "Saving Alice" is similar to "Coming Home" – choices and circumstances from the past determine the future, and these are explored one by one throughout the narrative. Our main character, Stephen Whittaker, decides at a young age to avoid becoming the object of local scorn that he sees his father as in Aberdeen, South Dakota. His plan goes well as he goes to an Ivy League school, receives prestigious job offers and discovers Alice, the love of his life. But in the process of proposing to the glamorous, talented Alice, he loses her.
Everything changes in an instant for Stephen, and thus he makes a series of choices that put him in the position in which we find him when our story truly begins – married to Stephen and Alice's best friend, Donna, with a teenage daughter who is the center of his universe. Some bad business choices we discover, some bad family and friend choices along the way of the book, and before he knows it, Stephen is beyond help. Or is he?
What may seem perfect material for a Lifetime Channel movie, is instead kept interesting and surreal by the surprises that our author introduces along the way. Just when you think that the protagonist cannot possibly face another hurdle, Lewis relieves you in a totally unexpected way. As the last few chapters unravel, I was at first unbelieving of the direction Mr. Lewis was headed, but gradually felt right at home in the angles from which we are viewing Stephen Whittaker.
Lewis does not neglect the supporting cast either. Donna, the daughter, Stephen's parents, partner and high school friends are all examined in such a way that we immediately understand their sensitivities to the occurring action, especially when it involves them directly. This fact only enhances our insight into Whittaker and the plot. We just do not realize until the book is finished.
OK, I admit it – I did get a bit frustrated in the middle of the book by the continued emotional pounding our hero endured – and yes, a little more when the storyline hops on a rollercoaster toward the end. But by the time that rollercoaster car pulled back into the station, I was so glad I went for the ride.

 


 © 2006 Infuze Magazine.  All rights reserved.  Used with permission.