"The Lies of Saints" - Book Review
Aaron King

Book Reviewer

2004

1 Jan

COMMENTS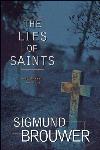 Author:       Sigmund Brouwer
Publisher:  Tyndale House
The third volume in the "Nick Barrett Mysteries" series finds Barrett, an amateur detective, wading into a thickening plot in Charleston, S.C., when his friend and fellow investigator, Kellie, is laid up by a messy car accident.
As Barrett begins his search for a beauty queen missing for two decades, he finds an unseen link between her disappearance and the hazing death of a freshman in a local military school. The more the clues seem to point to some of Charleston's most elite citizens, the more unsettling the cases become.
Sigmund Brouwer (who is married to singer/ songwriter Cindy Morgan) packs his 10th novel full of more intrigue and surprise than most and delivers a strong message of faith, family and redemption without sounding heavy handed. "The Lies of Saints" is an engaging and easy read, providing an enjoyable few hours of escape from the pressures of everyday real life.

© 2003 CCM Magazine.  All rights reserved.  Used with permission.  Click here to subscribe.