True Honor a Tribute to September 11 Heroes
Laura MacCorkle

Senior Editor, Fun Channel

2002

5 Sep

COMMENTS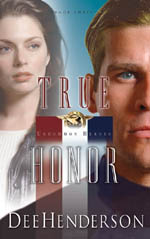 Releasing this month, True Honor is the third installment in Multnomah Publishers' "Uncommon Heroes" series of military romance novels.  Author Dee Henderson was still writing True Honor during last year's terrorist attacks on September 11. 
"The event changed my life, as it did for many in America," shares Henderson.   "Writing Darcy and Sam's story was part of my own recovery of a sense of hope.   Darcy was the endurance:   put her head down and do what is the next thing and keep going until the job is done.   Sam is the trust.   He's wading into the fight confident he'll win, trusting God for the outcome.   Together they were the right kind of team.   There are many like Darcy and Sam working today to defend our country.   This is my tribute and thanks to them.   They are indeed heroes."
In the pages of True Honor, readers will encounter CIA officer Darcy St. James who takes the September 11 attacks very personally, as friends have died at the Pentagon.  Now, she's hot on the trail of a man who knew the attacks were going to happen and chose to profit from that knowledge. 
Dee Henderson's books have combined sales of over 700,000 and have won a host of awards, including the RITA, Bookseller's Best, and National Reader's Choice Awards.