Turner Tells It Like It Is in Churched
Annabelle Robertson

Crosswalk.com Contributing Writer

2008

28 Oct

COMMENTS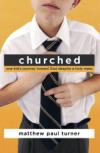 Author: Matthew Paul Turner
Title: Churched: One Kid's Journey Toward God Despite a Holy Mess
Publisher: WaterBrook Press
If you've ever been the victim of a hellfire and brimstone message in the church (and who hasn't?), you'll love Churched. A series of memoir-like essays by author/blogger Matthew Paul Turner, the book begins when Turner is five and about to attend his first fundamentalist church. It ends when he's 35 and back in church again—though just barely.
Think long hair and trouser-wearing women can't make a good sermon? Then don't miss the chapter where Turner's Sunday School teacher burns a Barbie doll—to show what happens to smokers. And no, he wasn't referring to those who set themselves on fire by, say, smoking in bed. This well-meaning but sorely misguided youth leader was demonstrating to the little kiddies what it's like to burn in Hell.
Turner is funny. Not hysterical, and not consistently, but enough that I caught myself smiling fairly frequently. On several occasions, I even laughed out loud. He's also a good writer, with enough self-assuredness to be self-deprecating, without the "wink, wink" trap to which so many authors succumb. He's real, and he's very honest—about himself, the church and the Christians he has met. And yet, amazingly, he never comes across as judgmental. He just tells it like it is. Recovering fundamentalists everywhere are going to love him for it.
"When I was a kid, Jesus and I made a deal," Turner writes. "Actually, I made the deal. Jesus just went along with whatever I said. He was very compliant. Much more than most Christians would admit."
Turner knows what it's like to believe—but also to get caught up in the various legalistic mindsets that infect Christianity. He gets the church, and those who attend. And he loves Jesus. But he also understands that while the road to heaven may be paved with good intentions, it's also full of bricks that people like to throw.
"I needed Hell to exist," Turner writes, with startling insight. "It helped me focus. It kept me striving toward being a good fundamentalist. It caused me to pray and read my Bible. It even helped me turn off the TV when TJ Hooker said a bad word."
He's wise, this guy. And he has a very good understanding of God—though he'd probably be the last to think so. Certainly, Turner has been in church long enough to get all the doctrinal stuff. When it comes down to it, though, he's really just a noble Berean—a thinker who isn't afraid to question what Christians insist must be held sacred, even when it isn't.
This translates into good reading for believers and non-believers alike. Those who enjoy debunking some of the craziness that surrounds us—and who aren't afraid to think for themselves—will enjoy it most.