TV Stars' Mom Says Faith Helped Write Family's H'wood Ending
Allie Martin

AgapePress

2006

28 Oct

COMMENTS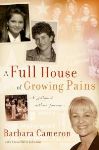 The mother of two well-known TV sitcom stars says money and fame do not bring true happiness.

In her new book, "A Full House of Growing Pains" (Bridge-Logos Publishers), the mother of Kirk Cameron and Candace Cameron Bure tells how faith helped her family deal with popular success, celebrity, and seductive Hollywood culture.
Author and mom Barbara Cameron says although her son Kirk enjoyed fame through his role on "Growing Pains" and daughter Candace found success on the show "Full House," her family tried to lead a "normal" life, and faith was a big part of what made this possible. The hope that sustained her family, she says, was anchored in Jesus Christ.
But the Cameron family's story was not without it's real life drama. The plot follows the ups and downs of a young woman who graduated high school and then married a man seven years older than herself, then struggled to raise four kids while her marriage was falling apart. As the story continues, she fights to restore her family while helping two children navigate their TV careers and growing celebrity, and this Christian mom grows in faith and confidence, eventually even starts her own business.
"I hope the people that read the book will just know that through the power of our Lord, Jesus Christ, there is hope," Cameron says, "through marriage, through him healing our marriages and bringing our children to Christ."
And it is important to stress that the healing and victory that is possible comes about "basically through our obedience," the author says. "As wives and mothers, we can't fix anybody. We can't do it on our own. It's only the power of Jesus Christ that can do that," she says; "so that's what I hope people will get from this book."
One part of her family's journey that Cameron details in her book is the way her children came to have a personal faith. Although she taught them according to their beliefs, she notes that many times even children raised in strong Christian homes have to go through a process of their own to draw near to God in a personal relationship with Jesus.
"What I want parents to know is that there is hope in your children coming to Christ, even later in life or as teenagers," Cameron says. With her own children, while she waited and prayed for them to grow into a faith of their own, she says she "tried to instill, probably, the values that my parents did in me and also what I believed to be true, what I knew about Christ and through prayer."
Today, Barbara Cameron works part-time for the Way of the Master Ministry, in which her son Kirk partners with evangelist Ray Comfort to teach Christians how to share the gospel biblically and lead others to faith in Christ. She is also on the board of directors for the Children's Hunger Fund.

© 2006 AgapePress.  All rights reserved.  Used with permission.