33Miles' Today Doesn't Reinvent the Wheel
Ed Cardinal

Crosswalk.com Contributing Writer

2010

28 Oct

COMMENTS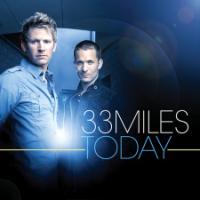 Artist: 33Miles
Title: Today
Label: INO Records

33Miles was first pegged as a church-based Rascal Flatts, probably because standout singer Jason Barton hits each big note of every chart-conscious tune with ease and emotion while guitarist Chris Lockwood often plays in a crisp pop/country style.

Now, press materials for Today, the act's third album, suggest this new effort sounds progressively reminiscent of Coldplay and Train. That's half debatable—who hasn't been compared to Chris Martin's band lately?—although the strong, uplifting opener "What Grace Looks Like" does begin on a fun "Hey, Soul Sister" note.

Instead, more than any other current group, 33Miles actually bears resemblance to the top names in Christian music during the mid-to-late 1990s; and that's not a backhanded compliment or suggestion that outdated keyboard effects are just around the corner. For those who miss the vocal strength of 4Him or Avalon in their heyday, for anyone who just needs a straight ahead fix of biblically-informed, radio-friendly cuts made 2011 compliant by trusted producers like Nathan Nockels (Passion) and Ian Eskelin (Francesca Battistelli), Today is a really good place to start.

Thematically, Barton and Lockwood speak to the everyday believer or seeker who needs a fresh reminder of the bigger picture, the reality that God will ultimately make right all of life's junk and guide us gracefully through it in the meantime. Performed with a distinct urgency, "Hold Me Up" gives potent hope to a Christian coming "face to face with failure" just as "Underneath" (sonically similar to a recent Mat Kearney hit) points the listener toward mercy although "deep inside it's still a mess." Even more encouraging are "Live" and the title track, boldly optimistic life-starts-right-now pop songs marked by their respective modern and retro arrangements. Request-worthy first single "Where I Wanna Go" simply hungers for heaven; "No Greater Love" is an anthem that gives a reverent account of the cross; "Worth the Wait" nicely wraps the set with a lyric everyone needs to hear: "In His time, you'll be fine."

No, 33Miles' Today doesn't make any breakthrough artistic statements, but the members have said on record they aren't out to reinvent the wheel. Still, this record should keep the group and its fans rolling along very well.

**This review first published on October 28, 2010.

Watch 33Miles latest music videos at their official artist page on Godtube.com!