4th Avenue Jones Gives "Stereo" Uncommon Lyricism, Immediacy
Anthony Barr-Jeffrey

CCM Magazine

2005

24 May

COMMENTS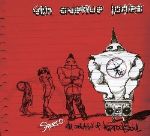 Artist:  4th Avenue Jones
Title:  "Stereo:  The Evolution of HipRockSoul"
Label:  Gotee/Lookalive Records
Ahmad Jones' 1994 solo platinum hit "Back in the Day" was a nostalgic ode to a simple time in life and music. But today neither he nor his band seems particularly interested in nostalgia. Perhaps that's because their professional lives have been neither simple nor ideal since 4th Avenue Jones' formation in 2000.
After releasing a buzz-driving indie debut, "No Plan B," the band landed a recording agreement with industry giant Interscope Records. With L.A. as its hub, 4th Avenue Jones continued to build a thriving "underground" fanbase during 2002, anticipating the release of its first Interscope album, "No Plan B, Part 2." While the band shared the stage with the likes of Black Eyed Peas, Macy Gray, Sheryl Crow, The Roots and others, 4th Avenue Jones eventually found itself in that notorious red-tape nowhere land known as "record label limbo." And as time would tell, "Part 2" never released.
Fast forwarding on all counts and freed from its Interscope deal, 4th Avenue Jones has entered a partnership with Gotee Records and constructed the equivalent of a musical "perfect storm"; an intriguing sonic convergence of angular alt-rock riffs, gospel fervor, thick urban funk, tight beats, catchy choruses and experimental production.  Although clichés are challenged and genre lines are blurred at every turn, somehow this band manages to stay securely tethered to its L.A. hip-hop roots.
Confidently asserting their prowess, Ahmad and Tena Jones give "Stereo: The Evolution of HipRockSoul" an uncommon visceral lyricism and emotional immediacy. The details of a squabble in "Unhappy Birthday" are so honest that listening feels a little invasive, while the realness of "Overloaded" hits so close it's almost cathartic. While many of the tracks lack such personal weight, nearly every song carries something else equally rewarding. Longtime fans thrown by Ahmad's unexpected adventure into singing are specifically rewarded when he reverts back into a hungry, hip-hop revolutionary on tracks like "Caesar" and "Monumental Continental," featuring labelmates GRITS.  Not to be outdone, each time Tena adds her gospel, blues and rhyme flavor to a track, she brings much needed balance and beauty to a disc that vibrates with intensity.
Those seeking safety in his/her music or lyrics may find "Stereo" too bold and brash.  But for anyone looking for something a little out of the ordinary, this is a truly special band.

© 2005 CCM Magazine.  All rights reserved.  Used with permission.  Click here to subscribe.