A Beautiful Struggle
Ed Cardinal

Crosswalk.com Contributing Writer

2012

8 Sep

COMMENTS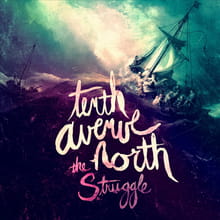 Artist: Tenth Avenue North
Title: The Struggle
Label: Reunion Records
A passage in Sarah Young's best-selling devotional Jesus Calling states, "I designed you to commune with Me face to Face . . . such communion provides a tiny glimpse of what awaits you in heaven, where all barriers between you and My Glory will be removed."
Tenth Avenue North brings those words to mind on its third album, The Struggle, wherein the notably popular band (more than 700,000 previous records already sold) wrestles with the human condition and hungers for a permanent spiritual home.
Building from a common sonic palette born of long-established acts U2 and Jars of Clay, Tenth Avenue North stands apart from such standard comparisons thanks to its creative songwriting shapes and quickly evident lyrical strengths. Openers "Shadows" and the title track are compelling alternative rock tagged with worship codas. The former faces up to life's darker traces, while the latter twists them into a hopeful perspective:
Hallelujah, we are free to struggle. We're not struggling to be free.
First single "Losing" is in fact the biggest winner, a rock gospel stomp with an inspired break-it-down bridge where the combination of triangle, hand clapping, and piano has never sounded cooler. A song believers the world over can sing about God's mercy and our call to be loving and merciful as well, its instantly memorable chorus is simply:
Oh, Father, won't you forgive them? They don't know what they've been doing.
In the same neighborhood, there's a tidy pop structure and sweet soulfulness to "Grace," also a potential radio hit. The international influence of Hillsong and Delirious is evident on other top cuts like "Don't Stop the Madness," a fresh response to life's struggles that thoughtfully counters prosperity gospel teaching:
Don't stop the pain in me. Do whatever it takes to give me Your heart and bring me down to my knees, Lord.
The remainder of The Struggle is duly earth-weary and kingdom-focused. With straight ahead rock sensibility, "Where Life Will Never Die" knows, This rusted world can't satisfy. There's nothing here that will survive. In the Switchfoot vein, "Strangers Here" anticipates the day when, We'll touch the face of God and the sorrow will disappear.
The Struggle is the sound of Tenth Avenue North hitting its creative stride. Don't let the project's heavy premise discourage you from listening; this band is a bright spot in modern Christian music.
*This Review First Published 9/8/2012