A Hope to Hold Onto
Ed Cardinal

Crosswalk.com Contributing Writer

2014

7 Jul

COMMENTS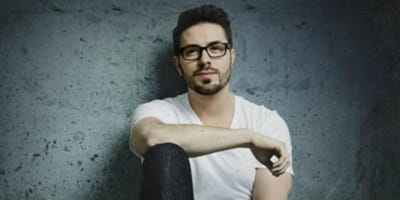 Artist: Danny Gokey
Title: Hope in Front of Me
Label: BMG

In case you've lost track of who's who among the singing shows, Danny Gokey placed third on season eight of American Idol. He auditioned soon after his wife died following heart surgery and since has honored her memory through many charitable acts. A former worship leader from Milwaukee with a kind and soulful scratchy voice, he confused people with a country album in 2010. Hope in Front of Me is a better fit, reintroducing the 34-year-old as a Christian pop artist.

This time there's a better shot at success as Danny co-writes with some of the genre's top names including Bernie Herms (Casting Crowns), Keith Thomas (Amy Grant) and Matthew West. As such, each song feels radio ready, inspirational by nature, and safe enough for faith-based and mainstream adult contemporary playlists alike. And knowing Gokey's back story, there's an air of authenticity that makes potentially generic lyrics and polished production more believable.

"I've been running through rain that I thought would never end," he gently sings on the title opener, an echoing mid-tempo ballad with big drums that matches the name of his recent book. Risking momentum, "More Than You Think I Am" moves even slower but ultimately works due to compelling words sung from God's viewpoint ("Rumor has it there's a gavel in My hand"). "Tell Your Heart to Beat Again" also marches to a trickling beat but has a good theme of grace.

"Better than Gold," is mercifully funky, an R&B workout perhaps not far enough removed from Daft Punk's "Get Lucky," but it still feels really good. "Pretty Beautiful" is another straight up and upbeat love song ("You're a wildflower in a world of wheat"); Danny has remarried—his wife is expecting their second child. Such happiness surely influences two more life affirming tunes, "Take It to the Limit" and "It's Not Over," that delight in Soul Train and Motown motifs.

Between those beats-per-minute extremes, Gokey is at his best on the thoughtful "One Life" and "This Is What It Means." The former makes an easy play on emotions with references to tragic car accidents, floods, and school shootings, but his vocals and the message are nonetheless on point and in the all-important moment. The latter is another singing highlight—what got him to this point in the first place—and tells what living is about: "There's fear, faith, loss, grace."

Here's a Hope to hold onto.
*Published 7/7/2014