Albertine a Subtle, Unabashed Statement of Faith
Lindsay Williams

CMCentral.com

2008

21 May

COMMENTS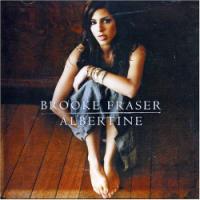 Artist: Brooke Fraser
Title: Albertine
Label: Sony/BMG
Hauntingly beautiful …
Brooke Fraser may not be a household name in the States, but she should be. In her New Zealand homeland, however, Brooke is an irrefutable superstar. Not that you would know it from the achingly vulnerable Albertine, produced by Marshall Altman (Matt Nathanson, Marc Broussard).
While the singer/songwriter moonlights from time to time as part of Hilllsong United (she attends Hillsong Church in Australia), the real treasure lies in the simplistic beauty of this exquisite solo endeavor.
Her voice, reminiscent of Christy Nockels (yes, it's that lovely), is absolutely angelic. Her songwriting is unmatched. These songs ring true with poetic depth akin to the writings of C.S. Lewis (see track No. 6). Fraser expresses her thoughts in a fresh, intelligent way, at times amidst the sparsest melodies.
Central to the entire album is a theme of hope, charity and social justice, the centerpiece being the title track. "Albertine" was inspired by a young girl Fraser met on a trip to Rwanda. Fraser's words in the song sum up this artist's exercise of learning how to love people well: "Now that I have seen, I am responsible/Faith without deeds is dead … I will tell them Albertine."
Whether crooning about love in general or about injustice, Fraser's songwriting continues to point back to the Love the inspires her obvious creativity and wisdom. Although, subtle at times, this is perhaps what makes this disc so enchanting. A record for believers and non-believers alike, it's an unabashed statement of faith. These songs will stir something inside your soul, revealing the heart of this exquisite young artist. Don't miss the truth these songs possess.



© 2008 CMCentral.com. All rights reserved. Used with permission.




Visit CMCentral.com now and join the single largest online community of Christian music fans on the internet. CMCentral features daily music news, exclusive interviews, album reviews, weekly devotions and feature articles written by some of your favorite Christian artists, and much more. CMCentral is also the home of the most popular Forum for Christian music fans that you'll find anywhere on the Internet. Come see what all the buzz is about!

**This review first published on May 21, 2008.


Watch the latest Brooke Fraser music videos on her official Godtube.com artist page!