Audio Adrenaline Pulsates Once Again
Tim Laitinen

Crosswalk.com Contributing Writer

2013

15 Feb

COMMENTS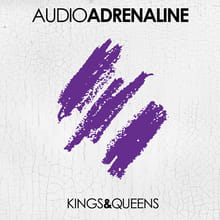 Artist: Audio Adrenaline
Album: Kings & Queens
Label: Fair Trade
Talk about a blast from the past! You know you're getting old when a band brand like Audio Adrenaline reminds you more of blow-dried hair and shoulder pads from the late 80's and early 90's than contemporary Christian pop music. Has it really been that long?
Audio Adrenaline formed in 1986 under the name A-180, but didn't make it big until its 1992 album, Audio Adrenaline, featuring the new moniker with which it had been re-christened, thanks in part to dc Talk's influential impresario, Toby McKeehan.
Yes, the nostalgia keeps building, doesn't it?
Audio Adrenaline went on to amass an impressive collection of awards and music festival accolades, until it folded in 2006. Now it's back, with Kevin Max – of, perhaps not coincidentally, dc Talk fame – as its new lead vocalist.
SEE ALSO: Emotional Anthems
Kings & Queens is their brand's re-launch album, with only Will McGinniss returning from its band's original A-180 and Audio Adrenaline legacy. As might be expected, the new group features a mostly updated (read: harder) pop sound, but fans who may still want some of that buoyant, more carefree sound Audio Adrenaline helped popularize back in the day won't be disappointed. In particular, if you didn't know any better, "He Moves You Move" and their title track, "Kings and Queens," could have been lifted straight from 1989.
Generally, this album typifies the group's established reputation of more mimicry than originality. For example, tilt your head a bit, and "Fire Never Sleeps" could be a U2 encore. Vocals are clear and vibrant throughout each song, but while they're not exactly iconic, today's audiences don't seem to expect or desire different aesthetics from every band that's out there. Maybe it will be enough that a brand – if not the actual band – from Christian pop's earlier days can produce a modern album that manages to bridge the years without sacrificing the veneration that made Audio Adrenaline a name its producers considered worthy of being resurrected in the first place.
Not that such Gospel themes as "sacrifice" and "resurrection" reinforce the theological content of this album's songs. With as many connections Audio Adrenaline boasts to the surprisingly orthodox rap of dc Talk, you'd think the lyrics on Kings & Queens would be more blatantly Christocentric. As it is, nuance and allegory trump plain doctrine in what could easily become a disservice to a genre that still wants to be called "Christian" pop.
Indeed, nostalgia is one thing. Putting it to good use is quite another.
SEE ALSO: Burning Lights Leads The Way
*This Review First Published 2/15/2013