Avalon's Faith Delights With the Unexpected
Meredith Ball

CCM Magazine

2006

5 Dec

COMMENTS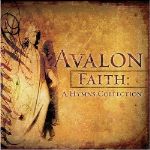 Artist: Avalon
Title: Faith: A Hymns Collection
Label: Sparrow
Despite being a project of timeless classics, Avalon's latest CD will delight your auditory senses with something unexpected. The hymns are familiar, but the music is new and inspired.
When tackling a remake of hymns, most musicians tend to take one of two roads. The first is that of completely redoing the composition with the exception of the lyrics: new melody, new tempo, new instruments, classic words. The other road is to take the original and simply jazz up the instrumentation while keeping the music the same.
Here Avalon takes a third path, a road less traveled, that should please both traditionalists and those seeking something different. The underbelly of the music on this CD is, at most points, completely unrecognizable as a hymn. Some songs sound like a gospel spiritual ("I'll Fly Away"), some like an epic movie soundtrack ("It Is Well"), and still others like soft rock ("Blessed Assurance"). And, yet, the integrity of the melody and the lyrics are preserved. You can safely sing along with familiarity and still hear something new at the same time.
Only two tracks on the disc have a more traditional approach, the a cappella "Holy, Holy, Holy" and "Great Is Thy Faithfulness." Though beautiful work, they fall short of the fresh perspective the other tracks create. Making up for that, the introspective "For Freedom" alone makes the CD worth having.
As expected, Avalon's harmonies are smooth - sounding both like an entire choir and one voice. The music is simple, soulful, heartfelt and deep. The instrumentation is full and yet not overly layered, with the acoustic guitar lending an authentic feel and the piano a haunting, soulful vibe.
A wise man once said, "There is nothing new under the sun." But taking a new approach to what is old, but true, can be just as refreshing as if it were new.


© 2006 CCM Magazine. All rights reserved. Used with permission. Click here to subscribe.


Watch the latest Avalon music videos at their official Godtube.com artist page!