Best Friends Sing Together on Cadia
Kevan Breitinger

CMCentral.com

2008

25 Feb

COMMENTS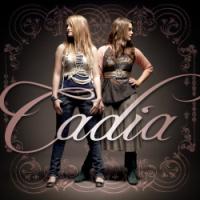 Artist: Cadia
Title: Cadia
Label: Fervent Records
Fervent Records' newest female pop rock duo is made up of Courtney Myers and Tori Smith, longtime best friends who have been singing together since meeting in a school play in the seventh grade.
Not all that long ago, considering they're now 19, but the years have given them a certain tight vocal groove. If you like BarlowGirl, you'll enjoy Cadia. Their songs cover some of the same themes: honesty, empowerment, sexual purity, and self-esteem.

Cadia was recorded at the famed Sound lab outside of Nashville with Otto Price and Rob Hawkins at the helm, which explains the crisp production values throughout. Cadia was a part of last winter's Revolve Tour, a Women of Faith tour oriented toward young women, and their song "Inside Out" became the title cut for the tour album, The Revolve Tour: Inside Out.
Their vocal strength is quickly apparent with Cadia's opening track "Trust in Me Now," dominating over thick pop rock beats and guitars. A strong hint of the blues peaks through the vocals on the infectious "I'll Stay," and take special note of the gleaming bridge on this standout cut penned by Nichole Nordeman and Clint Lagerberg. The duo covers compositions from some of Nashville's best scribes, including Sam Mizell, Cindy Morgan, and Ian Eskelin.

Their heart for young women shines through many tracks, including the bouncy encourager "Safe Place to Fall," and is especially obvious on the Martina McBride classic, "This One's for the Girls," a pop rock track addressing the specific insecurities women my face at various ages, from the 13-year-olds holding on to their innocence to the 42-year-olds "tossing pennies in the fountain of youth." Their heart for the Lord is equally prominent, as on the soft ballad "Only a Prayer Away," and "Jesus," notable for its strong vocals. These girls can sing; it's impossible to conclude otherwise, whether you like pop rock or not.

Their harmonies are pin-tight on the melodic, key-driven "Radiate," written by Joy Williams and sure to place well on the charts, and they soar through the dazzling melody line of "Speak." The previously mentioned "Inside Out" closes the debut strongly. It rocks quite a bit harder than previous tracks, the frenetic lyrics riding the driving beats effortlessly. Like the rest of the album, it is in-your-face faith-driven. I think we'll be hearing a lot more from this new duo.




© 2008 CMCentral.com. All rights reserved. Used with permission.



Visit CMCentral.com now and join the single largest online community of Christian music fans on the internet. CMCentral features daily music news, exclusive interviews, album reviews, weekly devotions and feature articles written by some of your favorite Christian artists, and much more. CMCentral is also the home of the most popular Forum for Christian music fans that you'll find anywhere on the Internet. Come see what all the buzz is about!