"Beyond Measure" Offers No Surprises for Jeremy Camp Fans
Brenten Gilbert

CMCentral.com

2006

14 Nov

COMMENTS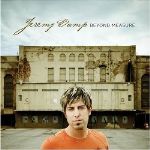 Artist:  Jeremy Camp
Title:   "Beyond Measure"
Label:  BEC Recordings
Many Christians latch onto the verse in Philippians when Paul says that God "will supply all your needs, according to His riches and glory." But besides often taking that passage out of context, many of us misconstrue what riches and glory actually means.

Many people assume that it entails a material blessing that will leave us with great wealth and prosperity in the world's eyes. However, as with most of God's promises, this statement refers to eternal rewards that are the result of our charity and love for those around us.
Jeremy Camp offers fans his latest collection of music with "Beyond Measure," an album that focuses on counting the cost of following Christ and giving God our all. Current single "What It Means" plays as a prayer to God for the understanding and strength to sacrifice our very lives for His service, while the title track reminds listeners of the worth placed in the eternal rewards that God offers us - a wealth that's beyond measure. Other tracks continue down this path of thought. "Let It Fade" urges us not to place our trust in things of this world, "I Am Nothing" explains that all of our value stems from the love of Christ, and "Everything" emphasizes the futility of chasing after earthly treasures.
Some may call this album "Stay" - Part Three and it's true in that "Beyond Measure" isn't going to surprise anyone from a musical standpoint. It's quite clear that Camp is comfortable with his sound and, given his radio and retail success, why wouldn't he be? Regardless of your stance, the mellow but potentially edgy sound is back for yet another twelve-track, forty-five minute outing that will certainly sit well with its target audience. Some standouts from the rest of the album include "I Am Nothing", "Let it Fade" and the single, "Tonight."
As much as listeners may want something new and creative from their favorite artists, it's also very true that they want something that they expect, something that doesn't actually stray from the sounds of the past. Balancing these desires into the equation that emotes popular music, Jeremy Camp and crew have managed once again to put together yet another album that may not be a critical darling, but is sure to be a crowd pleaser. At the very least, "Beyond Measure" should secure Camp's placement at the top of the charts for another year with a positive vibe and slight hint of punch.


© 2006 CMCentral.com.  All rights reserved.  Used with permission. 

Visit CMCentral.com now and join the single largest online community of Christian music fans on the internet.  CMCentral features  daily music news, exclusive interviews, album reviews, weekly devotions and feature articles written by some of your favorite Christian artists, and much more.  CMCentral is also the home of the most popular Forum for Christian music fans that you'll find anywhere on the Internet.  Come see what all the buzz is about!