Brandon Heath Stands Out with Christmas Is Here
Ed Cardinal

Crosswalk.com Contributing Writer

2013

17 Dec

COMMENTS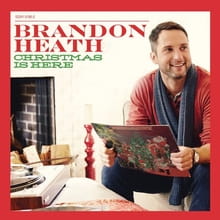 Artist: Brandon Heath
Title: Christmas Is Here
Label: Reunion Records

Multiple Grammy nominated and Dove Award-winning artist Brandon Heath—forever set in my mind as the guy whom powerhouse singer Carrie Underwood asked to sing at her wedding—one ups all those honors with his first holiday album, Christmas Is Here. In the crowded market of seasonal music, he finds his usual way of standing out without really standing out; this unassuming blend of traditional reverence combined with both humorous and deep originals is a perfectly wrapped gift that never tries too hard.

For example, Heath's newly written opener "The Day After Thanksgiving" immediately works as a fresh holiday selection worthy of adding to the future classic watch list, finding its pro-autumn voice in a fun laundry list of Christmas imagery that should not appear until Black Friday. After that, anything goes. You can put antlers on your car for all I care, he adlibs as the jaunty shuffle concludes.

Just as well, the serious new piece "Just a Girl" gets right to the heart of the original Christmas story by retelling it from the perspective of the innkeeper who turned away Joseph and Mary. Mixed with Brandon's signature acoustic guitar as well as expressive piano, the folk-based song memorably captures the moment in a different light, much like "Mary, Did You Know?" two decades ago. And it's likely to be embraced by the church in a similar fashion.

Lightning strikes thrice as the barrelhouse bluesy "Momma Wouldn't Lie to Me" makes us laugh at a child's reasoning about the existence of Santa Claus—and a parent's quick save when said kid catches her eating the jolly man's milk and cookies: Uh . . . This year Santa's going gluten free! Well played.

Heath knows how to handle the standards as well. Given his vocal awards, he rises to the crooner occasion on a jazzy run through "The Christmas Song." For "Go Tell It on the Mountain" he matches the vibe of his excellent 2012 studio album Blue Mountain, giving the selection a lilting bluegrass vibe while the compelling lyrics do the heavier lifting. "Silent Night" is brilliant in its minimalism, using only a humble lead vocal plus nostalgic choir (think Rankin/Bass TV production) to get the message across.

It is often noted that people tend to forget what presents they received last Christmas by the following Christmas, but it's less likely you will forget this finely crafted Christmas album.
*Published 12/17/2013